The Bump Editors
Your Pregnancy: Week 21
Gasp...is that a stretch mark?!! Take deep breaths and remember — they'll fade after delivery. Your skin may also feel dry and itchy, especially over your emerging bump. Take a cue from your fetus, now coated by vernix (a milky, protective cream), and slather on the lotion.
Are stretch marks preventable?
When should you have your shower?
> Can you get more maternity leave?
See all second trimester Q&As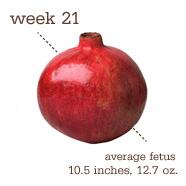 Baby's now the size of a pomegranate!
Baby's digestive system is busy creating meconium (a tarry black substance made of swallowed amniotic fluid, digestive secretion, and dead cells), which will fill the first diaper after birth. And, if baby is a girl, her womb is now stocked up with her lifetime supply of six million eggs (the number will drop to around one million by birth).
To-do:
Begin thinking about a baby shower
Start considering name possibilities
Go to your checklist
[tip]  Stock up on smart sweets like fruit sorbet, yogurt-covered pretzels, trail mix, jam, and smoothies — all great options when the junk cravings start.
Chat with other moms-to-be who share your due date
All medical information reviewed by Dr. Geeta K. Swamy, Duke University Medical Center OB/GYN Department