The Bump Editors
Your Pregnancy: Week 23
Swollen from head to toe? Increased blood flow, by now an old friend, is to blame. Consider a trip to the shoe store because loosening ligaments will cause your feet to expand even more in the weeks to come.
What can you do about varicose veins?
Are you at risk for gestational diabetes?
Want to cut nursery costs?
See all second trimester Q&As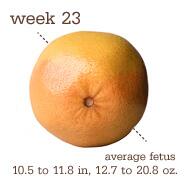 Baby's now the size of a grapefruit!
Baby's little face is fully formed...minus the baby fat, of course. The next task at hand for baby: sprouting two teeny-tiny nipples!
To-do:
Revisit money and legal matters
Reminder: Prepared for maternity leave?
Go to your checklist
[tip]  Taking a trip? Pack the oh-so-adorable compression stockings. Like 'em or not, they'll keep the blood moving in your legs, heart, and lungs during travel.
Chat with other moms-to-be who share your due date
All medical information reviewed by Dr. Geeta K. Swamy, Duke University Medical Center OB/GYN Department