The Bump Editors
Your Pregnancy: Week 24
As much as we love your company, take a break from the computer if your fingers feel numb or tingly. It's probably carpal tunnel syndrome, often brought on by pregnancy. Stretch your hands frequently to loosen them up. For significant symptoms, try wrist braces or splints at nighttime.
Are you bump watching?
> What can soothe sore boobs?
Should you get vaccinated during pregnancy?
See all second trimester Q&As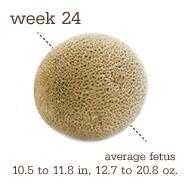 Baby's now the size of a cantaloupe!
Baby's skin is becoming more opaque as the fat starts to pack on. And, thanks to the formation of small capillaries, her newly thick skin is taking on a fresh pink glow.
**
To-do:**
Schedule your monthly OB visit
> Register for shower gifts
Go to your checklist
[tip]  Best picks for new kicks: thick-soled shoes (for comfort and stability) with adjustable laces or straps (for all the swelling soon to come).
Chat with other moms-to-be who share your due date
_All medical information reviewed by Dr. Geeta K. Swamy, Duke University Medical Center OB/GYN Department
_