The Bump Editors
Your Pregnancy: Week 26
Don't panic if your uterus suddenly starts tightening and relaxing — Braxton Hicks contractions often begin around this time. They're simply your body's way of practicing and preparing for labor. (If the contractions are regular or particularly painful, call your doc just to be sure it's not the real thing.)
What are Braxton Hicks contractions?
Is your weight gain slowing?
Going on a maternity ward tour?
See all second trimester Q&As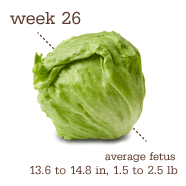 Baby's now the size of a head of lettuce!
Baby's soaking up your antibodies, getting her immune system ready for life outside the womb. Eyes are forming, and she'll soon be practicing the blink...perfect for batting those freshly grown lashes.
**
To-do:**
Schedule a tour of the maternity ward
Preregister with your hospital
Go to your checklist
[tip]  Go all out when you register. Many stores offer a discount on unclaimed registry items, which is a great way for you to save a few bucks on the basics.
Chat with other moms-to-be who share your due date
_All medical information reviewed by Dr. Geeta K. Swamy, Duke University Medical Center OB/GYN Department
_