The Bump Editors
Your Pregnancy: Week 32
Was that a contraction? Yup, but it's just for practice. Those strengthening Braxton Hicks contractions are just your body's way of prepping for the real deal. (If you feel more than four in an hour or have discharge, call the doc.) Farther north, your nipples are getting darker and (yes, it's possible) bigger — all the better for baby to see (and latch onto) in a few short months.
Getting panicked about parenthood?
Got a tiny nursery?
Need help handling hemorrhoids?
See all third trimester Q&As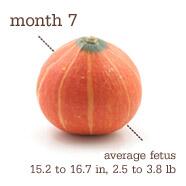 Baby's now the size of a squash!
Ready or not, baby's getting ready to emerge. She's probably in the head-down position by now, with her bottom facing up. This is the comfiest way for her body to fit in your increasingly cramped womb and will make her eventual exit (only a few months away now!) much easier. (If she's still head-up, don't panic — there's still time for a flip before birth.)
To-do:
Get any items still needed for baby
Schedule two OB visits this month
Contact cord blood bank (if donating)
Go to your checklist
[tip]  Spend a spare Saturday cooking and freezing your favorite meals. After baby arrives, the precooked dinners will save time and money (and your palate).
Chat with other moms-to-be who share your due date
All medical information reviewed by Dr. Geeta K. Swamy, Duke University Medical Center OB/GYN Department