The Bump Editors
Your Pregnancy: Week 37
Today brings two beautiful words: full-term. Now, whenever baby's born, he's likely to thrive. Also thriving? Your nesting instincts, which are behind those sudden urges to bake, clean, or embroider a onesie. (Feminists, take your issue up with nature, not with us.)
Are you at risk of tearing during delivery?
What can you do about heartburn?
Is your medicine chest stocked?
See all third trimester Q&As
**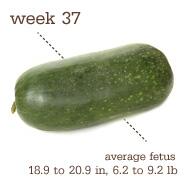 Baby's now the size of a winter melon!**
Your full-term (yay!) baby is gaining about 1/2 ounce a day and getting his first sticky poop (called meconium) ready. He's also brushing up on skills for the outside world: blinking, sucking, inhaling, exhaling, and gripping (it's getting strong!).
To-do:
Schedule biophysical profile
Finish sending thank-you notes
Schedule your weekly OB visit
Go to your checklist
[tip]  Sex getting tricky? Try getting busy while spooning (with your husband behind). This relaxing position keeps the pressure off your belly.
Chat with other moms-to-be who share your due date
All medical information reviewed by Dr. Geeta K. Swamy, Duke University Medical Center OB/GYN Department