The Bump Editors
Your Pregnancy: Week 9
As you squeeze into your jeans and struggle to button your shirt, try enjoying the gain — after all, when was the last time putting on the pounds was totally guilt-free? It's also probably time for some new lingerie. Your sore, bigger-by-the-minute boobs will feel so much better in a maternity bra.
Is your weight gain normal?
Looking for a great maternity bra?
Is it safe to eat soft cheese?
[See all first trimester Q&As
](http://pregnant.thebump.com/pregnancy/first-trimester/qa.aspx)
*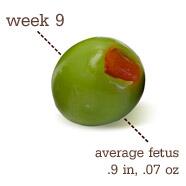 Baby's now the size of a green olive!
*Your little embryo has now officially graduated to fetus-hood. Adding to the excitement, a Doppler ultrasound device might be able to pick up the beating heart. With basic physical structures in place and increasingly distinct facial features, baby is kind of starting to look like...well...a baby!
*To-do:
*> Consider a babymoon
Schedule first prenatal checkup
Reminder: schedule your CVS
Go to your checklist
[tip]  Ask for a free sample of whatever prenatal vitamin your doctor recommends. Better figure out if you're able to keep one down before buying an enormous bottle.
Chat with other moms-to-be who share your due date
All medical information reviewed by Dr. Geeta K. Swamy, Duke University Medical Center OB/GYN Department