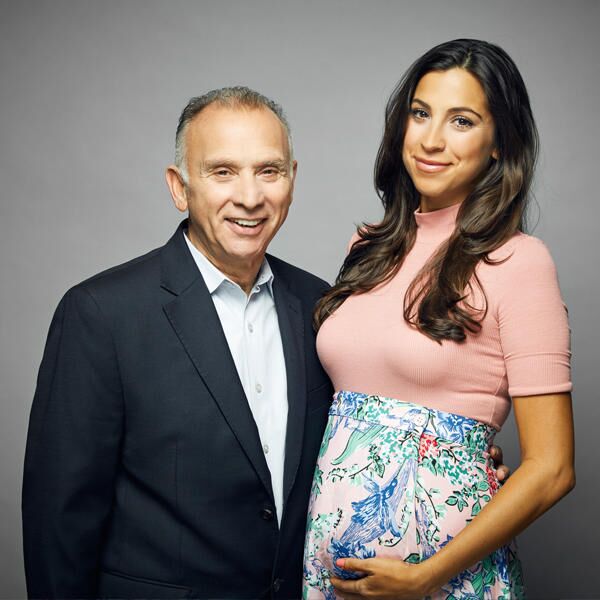 Elizabeth Roehrig
Deputy Editor, The Studio
4 Smart Pieces of Parenting Advice My Dad Taught Me
How a father's love, support and words of wisdom is helping one mom-to-be prep for parenthood.
Tanya Gudger considers her father, Lou, one of her best friends. Growing up, Tanya recalls him being a loving and caring man who could also be the stern parent when needed, teaching her important life lessons. And although she may be married now and about to become a mom (her daughter is due in June), things haven't changed that much. "My parents live only 30 minutes away, so I see my dad quite often and he's always very excited to give me his advice," Tanya says. "He put his children above everything else, and I can't imagine treating my little girl any other way." From practicing selflessness to reassuring her about impending motherhood, read on for the best parenting lessons Tanya's learned from Lou.
Always put family first. "This might sound cheesy, but it's true. My dad taught me by example how to be selfless. He worked long hours to be able to afford things for us and he would do anything my mother would ask. He's as excited as I am for this baby, I think, and he's been there for us a lot, helping us paint and put furniture together. And just yesterday, my husband and I needed to borrow their car and he offered to drive it all the way to me at midnight just so I could have it for the morning. I want to be as good of a parent as he was to me. And to make sure we all continue to put family first once our daughter is born, I told my husband I'd love to start a Sunday tradition and cook a big meal for everyone once a week."
Words of reassurance make a difference. "My dad's not just there for me by doing things. He also always finds a way to support us by the things he says. I am super ready to be a mother and everything has gone just as we've planned so far, so it has been pretty easy. But I can say that the few fears that I have had along the way have been put at ease by words from my father. He lets us know what amazing parents we're going to be, and how having a child will change our lives for the better. He told us that it will give us more purpose and talks about how you never truly experience that unconditional love until you have a child. Very encouraging stuff."
Make patience your mantra. "My dad preaches patience and how important it is. That's his mantra. As a new parent you have this child who doesn't know anything, and has to learn everything. There will be mistakes and annoyances and accidents, and it's just important to be very patient. It reminds me of the time I brought home a stray dog (Cookie) and he pooped all over the house. Long story short, we had a pet dog for the next seven years! My dad definitely had a lot of patience with Cookie—he put up with a lot just because it made his children happy."
Trust your parent's advice—they've been there, done that. "Even before I was pregnant, my dad helped my husband and I get car insurance and shop for homeowners insurance. These are all things that I'm relatively new at and he's been doing for 45 years. When we have our baby, we'll need a bigger car and I'm sure he'll be helping with it again. He also explained the importance of us getting life insurance—because in any worst-case scenario situations, we don't want to leave the other with no resources once our daughter is born. My father put my husband and me in touch with his Allstate* agent to set us up with insurance. He's been using the same [agent] for more than 30 years, so it was a no-brainer for us to use him as well. He's become more like a trusted family friend, and it's convenient to have all our insurance policies with one company. Thankfully, we haven't had to use our policies for any major circumstances, but we can sleep well at night knowing that we're covered."
*Actual Allstate customers compensated for their time for participation in interview.
Want more? Watch Tanya and Lou talk about their relationship here, then learn more about Allstate's insurance policies.
The Bump and Allstate teamed up to present Take It From Me , a sponsored series featuring life lessons that new moms and dads learned from past generations, plus valuable advice to help you prepare for the future. To find a local Allstate agent who can advise you as you make big life changes, visit Allstate.com.
Photo: Matt Furman