Get Your Baby to Sleep Like a Pro
You're certainly ready to pass out. So why isn't she? These smart strategies and mom-tested sleep aids will help you lull baby into sweet slumber—hopefully all night long.
Updated
Mar 2017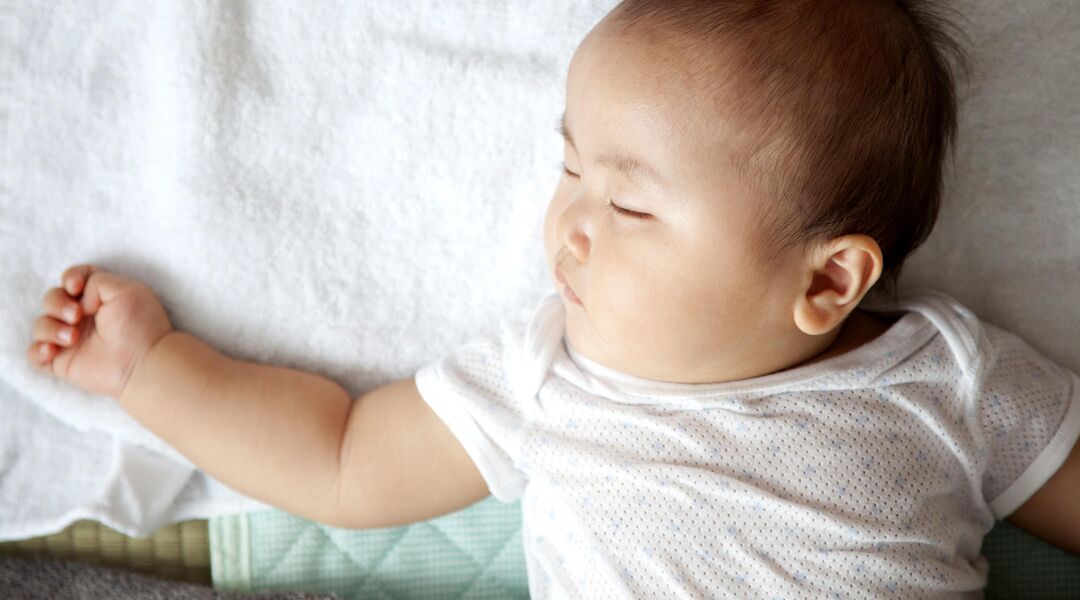 In a dream world…
It's time for bed. You sing baby your favorite lullaby and place her in her crib. She's asleep by the time her little head hits the mattress. You and your partner look on proudly, slide into bed yourselves, and wake up fully rested the next morning only to find her exactly as you left her—passed out cold. How lucky are you to have such an easy bab
In reality…
After hours of rocking she's finally out for the night, and she looks like she'll stay that way. Until you creep across the floor, reach the door, and are turned right back around by wails that could wake the dead. Is she lonely? Hungry? Wet? You go through the checklist but nothing seems to work. After more rocking you manage to get her back to sleep, creep across the floor…and the game begins again. And again. All. Night. Long.
Make this milestone easier
Create a bedtime ritual
Help baby wind down by establishing soothing nighttime routines such as giving her a warm bath, reading a story together, or listening to some soft music. Eventually, she'll learn to associate these activities with bedtime and sleepiness.
Don't freak if baby fusses
It's normal and harmless. In fact, many babies are active (and noisy!) throughout the night. Resist the urge to enter the room after every peep—baby may surprise you and get back to sleep all on her own.
Fuel her up
To lessen the chances that baby will wake up hungry in the middle of the night—and then wake you up—try your best to feed her at least every three hours from morning until bedtime. That way, there's a greater chance that she'll stay full long enough for you to score several consecutive hours of shut-eye.
Mom-tested helpers
Because heading to a million different stores is the last thing you have time for right now, all of the sanity-saving products below are available at Walmart.
1. Huggies OverNites Diapers
With tabs and a waistband designed to withstand tossing and turning, baby can go comfortably for up to 12 hours in these ultra-absorbent diapers without springing a leak. That means no more nighttime sheet changes (yes!).
2. Johnson's Baby Bedtime Bath and Baby Bedtime Lotion
Even babies love aromatherapy: These lightly-scented products are clinically proven to help them sleep better when used along with a gentle massage and a few minutes of pre-bed quiet time.
3. Fisher-Price Woodland Friends 3-in-1 Musical Mobile
Hang this above baby's crib for 20 minutes of sweet lullabies and overhead entertainment. You can also detach and clip the accessories to her stroller canopy for on-the-go fun, or use the music-playing owl solo when you want to add a familiar sleepy-time soundtrack to Grandma's guest room.
4. Munchkin Nursery Projector and Sound System
For an express ticket to dreamland, fill her nursery with the gentle crash of ocean waves (or nine other soothing sounds) and a softly lit nature scene projected on the wall or ceiling. There's even a sleep timer to get baby down for the night and a voice activation function to help her settle back down—potentially without a midnight visit from mom and dad.
5. Summer Infant SwaddleMe Muslin Blanket in Sweet Pea
Swaddle baby as snug as, well, a pea in a pod using this light cotton blanket with serious stretch. Once baby's done being wrapped like a burrito, it can be used as a burp cloth, nursing cover or sunshade.
The Bump teamed up with Walmart to bring you Real-Life Milestone Moments, a sponsored series full of solutions for the big, sometimes bumpy, journey through parenthood. With sanity-saving products and services like same-day pickup and stores open 24/7, Walmart is all about making life easier for new moms.