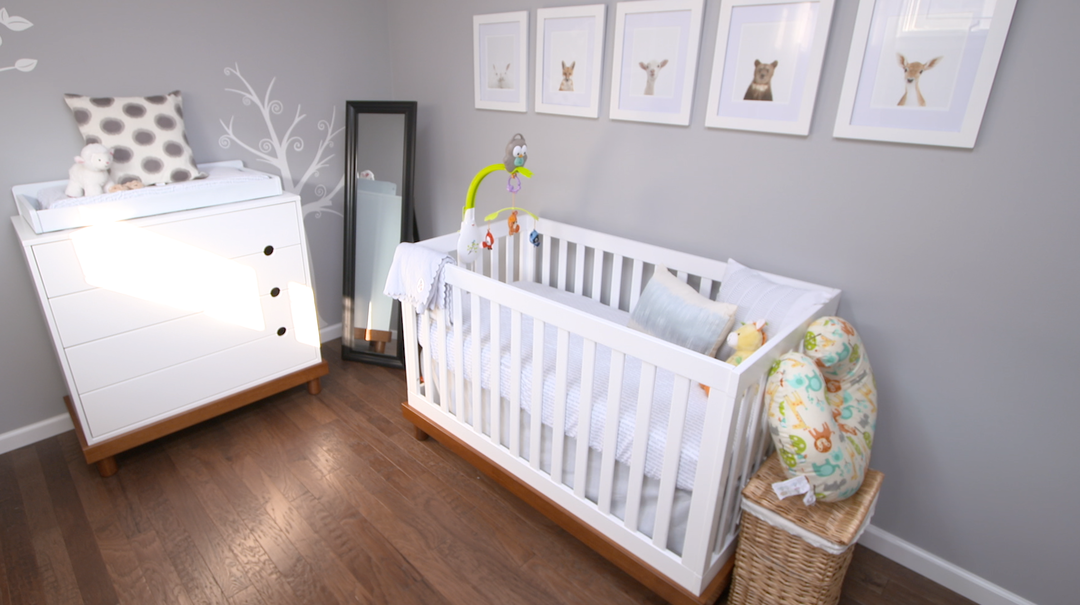 Kelley Rowland
Contributing Writer
Must-See Before and After Nursery Makeover (Video)
Getting ready to prep baby's room? Watch and be inspired by this modern, gender-neutral makeover.
If you're staring at blank walls in your nursery and need a little inspiration, start here with these fun videos and see how The Bump turned one couple's empty white room into the nursery of their dreams. Meet the soon-to-be-parents: Michelle and Eric Rhee, who are expecting their first baby (it's a girl!) this November. They recently moved from New York City to their first home in Bayonne, New Jersey—a big transition for these urbanites!
Michelle, a writer, and Eric, who works in business development, say they're "stumped" when it comes interior design, but they do know what they like. The pair wanted a modern nursery that seamlessly fit with their current aesthetic. Think: clean lines, a muted color palette and some adult-friendly design choices, since they'll also be spending a lot of time in there.
So how'd The Bump team pull it off? We came up with a plan to make the space cozy and sleek, and, most importantly—not pink (as requested by the couple). A warm, neutral color provided the perfect backdrop to modern, white furniture and Scandinavian touches, all provided by Walmart. By the end of day one, the white walls got a warm upgrade with pebble-gray paint, and shelving units were added for extra storage.
Before the big reveal, we brought in new furniture (including an Eames-inspired rocking chair—perfect for midnight feedings and coaxing baby Rhee to sleep) and placed it to maximize functionality within the space. For the finishing touches, we hung blackout curtains and some simple art, then added a few books and plush toys. The excited couple came home to find the space totally transformed. Check out the reveal below!
Shop the Look
Recreate the look in your own nursery with these products, all available at Walmart.com.
Crib: Baby Mod Olivia 3-in-1 CribThis functional and stylish crib grows along with baby, transforming first to a toddler bed and then to a daybed.
Rocker: Fine Mod rocker arm chairSoothe baby (and yourself) with a little one-on-one time in this sleek chair, inspired by a mid-century modern design icon.
Car Seat: Evenflo Advanced Embrace DLX Infant Car Seat with SensorSafe When it's time to leave home, know baby will stay safe in this smart car seat (which you can also get as part of a travel system). Thanks to SensorSafe technology, a chiming signal alerts you if the chest clip unbuckles while you're on the road and reminds you that baby's still in the seat when you arrive.
The Bump teamed up with Walmart to bring you Real-Life Milestone Moments, a sponsored series full of solutions for the big, sometimes bumpy, journey through parenthood. With sanity-saving products and services like same-day pickup and stores open 24/7, Walmart is all about making life easier for new moms.