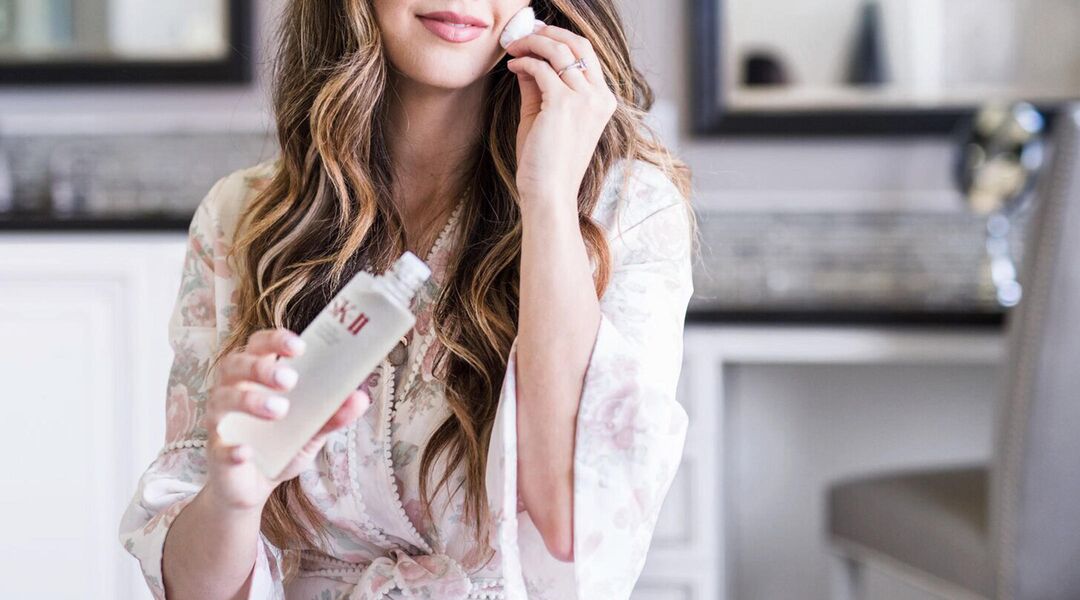 Cassie Kreitner
Senior Editor
The Must-Have Beauty Product for New Moms and Moms-to-Be
This treatment is the secret to having radiant, glowing skin (even if you're sleep deprived).
We all know your skin goes through a lot of changes during and after pregnancy. Some developments you'll probably appreciate—that fresh-faced pregnancy glow, for example. Then there are the less-welcome changes, like acne and uneven skin tone, that can persist even after baby arrives. One way to keep your complexion in check: Overhaul your beauty routine with products tailored to your skin's changing needs. (Just make sure they're also safe for baby if you're pregnant or nursing.) Start by adding a treatment that hydrates, softens skin, minimizes the appearance of pores and wrinkles, and evens out skin tone, like SK-II Facial Treatment Essence. It's comprised of 90 percent Pitera™, a vitamin-and-mineral-rich bio-ingredient that promotes skin's natural rejuvenation. The result: smooth, radiant skin. Read on to see how this product helped three lifestyle bloggers, all new moms or just about to be, get their glow on.
Following the birth of her third child, Springer struggled to get enough beauty sleep (understandably so!), and it was starting to show. "I needed to find something to give my skin a boost and make me look glowing and refreshed on the outside, even though I'm dead tired on the inside," she says. The busy mom added SK-II Facial Treatment Essence to both her morning and evening regimen and started seeing results in less than a week: "It has made my skin more firm and refined my pores so I have a smooth look, even without makeup."
After giving birth to two kids in three years, Martino made a resolution this year to dedicate more time to self-care. "It was my goal to invest a little time and care into my own appearance," she says. "I wanted to feel great in my skin without having to hide it or perfect it superficially with makeup." She began using SK-II Facial Treatment Essence and immediately noticed her skin felt softer and smoother. "It's much more even and I can see the glow that it has gotten just from this process," she says.
Following a summer touring Europe, De Silva is back home in Brooklyn, where, she says, life can get pretty hectic. "I've been handling the transition of more mom responsibilities but neglecting my 'me time,'" says the mom of 6-year-old London and 5-month-old Rio. "I want to make sure that I'm also making the time I need for myself." To that end, De Silva decided to revamp her skin care routine, adding SK-II Facial Treatment Essence to her repertoire. In the month since, "I have noticed that my sunspots are less visible, leaving my skin smoother, showcasing a reduction in wrinkles," she says. "It's a little luxury that has helped this tired mom feel pampered and as though I'm putting my best face forward."
This post is sponsored by SK-II.
Photo: LaTisha Springer