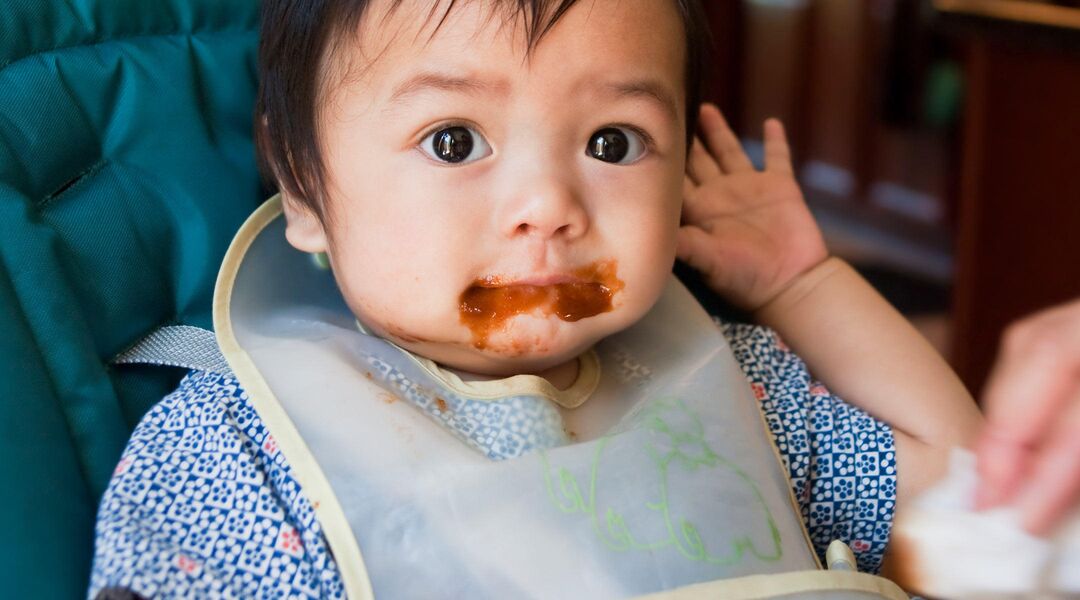 Kristin Fuerst
The Less-Mess Guide to Helping Baby Feed Himself
He's finally ready to tackle this task all on his own—here's how you can help.
In a dream world…
Get this kid some archery lessons, because he's a natural at hitting the bull's-eye. He raises his spoon up to his mouth and makes contact virtually every time, and he eats so neatly he barely needs a bib. What were you worried about? Clearly all those "open the hangar, here comes the airplane" lessons paid off.
In reality…
There's baby food everywhere but in the baby. Your walls…and floor…and shirt look like Jackson Pollock paintings, and you're hoping his ultra-gentle bath soap suddenly turns tough when it's tasked with removing those crusty dinner remnants from his skin. You'd help him out, but baby's made it abundantly clear he doesn't want your assistance. (That's what that fistful of applesauce to your face means, in case you were wondering.)
Make this milestone easier
Allow extra time for meals
To encourage baby to master this new skill, give him the chance to feed himself on his own as much as you can. This may mean that lunch goes from a 20- to a 40-minute affair, but appreciate the extra innings for what they are—practice that will keep you from having to invest in a lifetime supply of pouches. Foods that allow the pincer grasp (grabbing between the forefinger and thumb) are easiest to hold and eat at this stage: Think pasta or small pieces of steamed veggies or baked chicken.
Win some, lose some
Of course you want baby to get the nutrition he needs. Around age one, however, kids tend to start eating less and becoming pickier. If one night's dinner is composed solely of yogurt, so be it. Offer options, but don't be surprised if most of them are ignored. You should also avoid enforcing the clean plate rule at this early stage—it may turn this fun, new experience into a stressful one or create a habit of baby eating even when he feels full.
Mom-tested helpers
Because we know how strapped you are for time, we rounded up sanity-saving products from Walmart that'll help you and baby breeze through this milestone. Instead of heading to a million different stores, you can make one stop for everything your family needs—even groceries. Looking for a bigger time saver? Order these items online while baby's napping and have them shipped direct, or do a same-day pickup at your local store later.
1. Gerber Graduates Kiddy Cutlery Spoons
Kids love the idea that they can eat just like Mom and Dad now (or close to it). These little versions are perfectly shaped for small mouths and hands and have a metal "real deal" tip.
2. Munchkin Snack Catchers
As their name implies, this duo of bowls with special spill-proof lids stop snacks in their tracks—you know, before they end up crunched into smithereens on your carpet or couch.
4. BabyBjorn Soft Bib
The high-curved bottom on this easy-to-clean bib does such a good job of catching most of baby's "misses" that you may find him digging into it for bonus eats once he's finished his meal.
5. Tommee Tippee Trainer Sippee Cup
Easy-to-grip handles on this transition cup help baby master wetting her whistle solo, while a no-leak soft valve will save you from constantly wiping up spills on your hands and knees.
The Bump teamed up with Walmart to bring you Real-Life Milestone Moments, a sponsored series full of solutions for the big, sometimes bumpy, journey through parenthood. With sanity-saving products and services like same-day pickup and stores open 24/7, Walmart is all about making life easier for new moms.