11 slides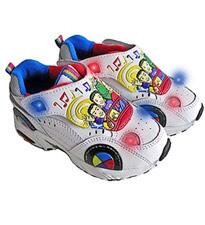 Kaitlin Stanford
10 Holiday Gifts Parents HATE When You Give Their Kids
Yeah, we know what you're thinking — it's the season of giving, not receiving; we should all be grateful for the presents we get; it's the thought that counts…yada yada yada. And while yes, all this is certainly true, come on — everyone can relate to those certain presents that after received for THE MILLIONTH TIME can't help but get under your skin a little. (Right?) And when it comes to baby gifts, every parent has at least a few on their mental list of things they pray no one will give their kid this year. Wondering if your gift is on the list? Read on. 
1. Un-funny onesies
"I can't stand getting clothes that say "Mommy's/Daddy's Li'l ______ [throw in some word...all-star, hero, pumpkin...here]" — KMS416
So here's the deal: By the time you're ready to gift someone a cute onesie or two around holiday time, chances are they've already stockpiled about a gazillion of them, thanks to all the
other
people in their lives who so enjoy giving onesies that say something like "Mommy's little stinker" on it. And we get it, they're pretty hard to resist. But for Mom, she's probably still trying to make her way through all the other onesies she's received before baby actually outgrows them. Our advice? If you've truly got your heart set on gifting a humorous onesie, better go for the gusto with one that gives the major LOLs. Try browsing
BabyWit.com
or
AJewishBeginning.com
.
2. Tacky baby shoes
"I hate getting character shoes, shoes with rhinestones on them, shoes with flashing lights...T-A-C-K-Y." — Britty685
Ah
, yes. Baby shoes. They can sure walk a fine line between being totally cute or totally tasteless. A five-month-old rockin' a pair of Nikes? Adorable. A five-month-old rockin' a pair of bedazzled, flashing light-up sneaks with "Divalicious" scrawled across the sides? Eh, not so much. For some non-tacky footwear options, check out
pediped.com
and
SeeKaiRun.com
.
3. Knickknacks & novelty items
"I'm not a fan of those little figurines you get at the card store — Willow Tree figure people and such." — kara435
Unless you're Grandma (and therefore all sentimental gift choices can be semi-excused), knickknack gifts tell a parent one thing and one thing only: You had no idea what to get their kid at all, so you swung into the closest card store and bought something in your price range that seemed sentimental and holiday-ish. (Are we right?) What will happen to this Willow Tree person or Precious Moments-esque gift of yours? We'll save you the wondering: It will probably wind up collecting dust in a shadow box somewhere for the next several years, until someone has finally had enough and tosses it. For a gift with a personal touch that any parent could actually get some mileage out of, check out one of our favorite new Etsy finds —
personalized growth charts by aewilder
 ($47).
4. Toys that play annoying music
"Kids make enough noise as it is, they don't need added help!" — lauren_mpenny
To be fair, baby toys that play music are awesome in that they are what enable Mom or Dad to keep their tot entertained for a few minutes so they can switch that load of laundry/start dinner/grab a few moments of sanity when needed. However, toys that play
annoying
music can lead said parents to have chronic daydreams about what exactly they would like
to do
to that toy to never have its irritating melodies haunt their dreams again.… Some nice (silent) alternative options: a fun plush toy like the Jungle Bowling Set (
giggle.com
, $50), or if you're buying for a tot, check out Tegu magnetic wooden toy blocks — they're eco-friendly
and
the company helps support employment and natural resources in Honduras (
Tegu.com
, starting at $70).
5. Giant stuffed animals (or really, any kind of stuffed animal)
"I swear I've told my mom we don't need/have space for any more jungle stuffed animals and Every. Single. Time. she comes over she has a new one to add. Thank God for Goodwill." — MrsFv20
It's easy to see why stuffed animals are always a good standby around holiday time: They're cute, seemingly "safe" and, hey, who doesn't like an adorable stuffed animal? We'll tell you who: The mom or dad who's received 50 other ones just like it since their kid's been born — and can no longer find a square inch of room in the nursery to shove another floppy-eared plush toy with a sad-but-irresistible grin on its face. Our advice: Resist the urge. Or at least go with one that's got a little function to it. What about a developmental toy, like the Skip Hop Treetop Friends Hug and Hide Owl Activity Toy (
Amazon.com
, $17). Is the kid teething? Check out Sophie, the giraffe teether by Vulli (
ToysRUs.com
, $18).
6. Clothes baby has already outgrown
"People often give clothing in a size he has already outgrown. He's a big baby, it's not a secret!" — DC2London



As a general rule, it's always a solid idea to do a little bit of research into any kid's age — and general body size — before gifting them some clothes. Sure, maybe he's six months old, but that doesn't mean he wears a size 6 months. And on behalf of the moms of the world with (adorably) chubby babies, there's nothing worse than getting an awesomely cute ensemble that would have fit Junior a few months ago. Do some pre-holiday snooping around, ask Mom what size her baby runs (and buy a month bigger than that), and most important of all: don't forget the gift receipt.
7. Clashing nursery decor
"I don't like getting decorative items for the nursery like picture frames. We have contemporary taste, and 99% of the time the gift does not go with our color/decorating scheme at all, yet there is an obligation to display the gift when the giver visits."— dangerkitty102



While it can be totally tempting to spring for that nursery picture frame you love, unless you know the parents' taste like the back of your hand, steer clear of any decorative pieces that may not exactly mesh with the style of the parents you're gifting. Otherwise? That picture frame will probably only see the light of day once a year — right before you make your visit. (And, ouch, nobody wants to be that person.) So take it from us and head in a different direction when you're leaning toward buying a decor piece. Unless of course you're absolutely certain it will be well received. (Just don't say we didn't warn you.)
8. Crocheted blankets
"I can't tell you how many of those crocheted blankets we got. Probably more than a dozen, and I don't use any of them." — STAR15



Hmm…this one's tricky, because we can definitely see both sides. For the lifelong crocheter, spending your time making a baby blanket or little set of booties for someone's tot can feel like the most thoughtful thing you could do for them. And we're definitely with you on that one. But for some moms, opening yet another crocheted baby blanket could also mean you've just added one more blankie to that ever-growing pile in their linen closet. Our advice: If you know the couple closely and are pretty sure a handmade blanket will go over well, then by all means, get your chain stitch on. But if not, better just hit up Babies"R"Us and save yourself some time.
9. Seasonally inappropriate clothes
"I hate getting clothes that are not in season, only to have my son outgrow them by the time he actually is ready to wear them!" — sun67



Yep, there's nothing worse than getting an outfit for your LO in the winter that can only be worn in the springtime – when, of course, he'll be too big for it. And yet it happens all too frequently. Either it's the result of some age/size miscalculation on the part of the gifter, or a possible (and ill-advised) regifting situation. In both instances, awkwardness can be averted with the presence of a gift receipt. But if you're the gifter and would rather steer clear of any of the above entirely, maybe your best bet would be looking to a nice activity toy instead.…
10. The Elf on the Shelf
"I don't get the draw, I think it's creepy! I don't like the idea that my children will think that there's some creepy elf staring at them throughout the holiday season…" — kw827
We agree — there's just something about the idea of placing an elf doll in the corner of your kid's room and telling them it's there to "watch" them and see if they're being naughty. That's just…well, a little creepy. Of course, it probably doesn't help that the look of the elf itself doesn't appear to have been updated since the late '70s. (Just us?) And while
The Elf on the Shelf
may be a holiday tradition for some fams, that sure isn't the case for everyone. Our parting advice? If you really want a book that has some novelty to it, check out
PictureMePress.com
, where you can create personalized tales for kids, have their photo and name inserted, and make them the star of their own story. Now
that's
actually cool.