20 NICU Babies Were Safely Evacuated From NYU Hospital During Hurricane Sandy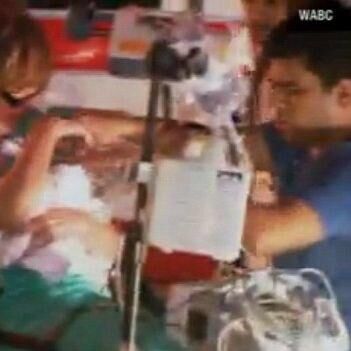 As if going into preterm labor isn't stressful enough, many new parents and their fragile new babies had to endure a mid-hurricane evacuation from the NICU when a New York City hospital lost power due to Hurricane Sandy.
After its basement flooded and the backup generator failed to start, the New York University Langone Medical Center was forced to evacuate patients. With over 200 patients to transfer, the staff and rescue workers had to work extremely fast. They immediately began moving the 20 babies they had in neonatal intensive care, most of whom were relying on respirators, down the nine floors of a darkened stairwell. In many cases, the heroic nurses who transported the babies had to switch to battery-operated respirators and hold them close to avoid the cold weather.
According to the Huffington Post, workers were met outside the hospital by almost two dozen ambulances who transported patients "to other hospitals, including Mount Sinai, the Memorial Sloan-Kettering Cancer, Lenox and Bellevue Hospital Center."
With the help of rescue workers and members of the community, the staff was able to clear the hospital in 15 hours.
"By 11:00 Tuesday morning, all 300 patients were safely transferred from NYULMC to nearby hospitals," NYU Langone Medical Center tweeted this morning. "We thank FDNY, NYPD, and Office of Emergency Management and accepting hospitals for their immediate assistance. We also thank our dedicated faculty, staff, and medical students for their tireless efforts during the storm."
A huge thank you to all those involved in the NUY Langone Medical Center evacuation, to the NICU nurses who work tirelessly to care for premature babies in their daily jobs, and those going above and beyond to keep people safe during Hurricane Sandy.
Did you have a baby in the NICU? How has your family been affected by Hurricane Sandy?