Ali Fedotowsky on Dealing With Braxton Hicks Contractions at 37 Weeks Pregnant
The expectant mom talks about why she's on bed rest and which Bachelor alum has been dishing baby advice.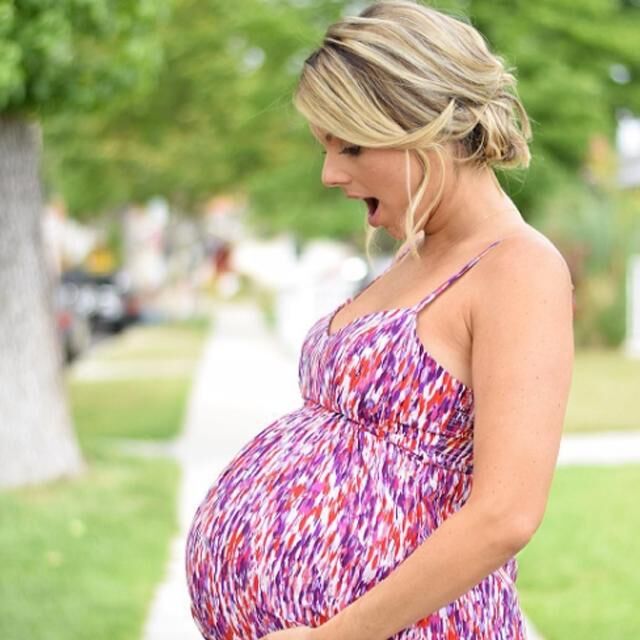 On doctor's orders, Ali Fedotowsky has been on modified bed rest for the last few weeks of her final stretch of pregnancy. While that means the Bachelorette alum can still go out and do things she loves (like blogging her way through the current Bachelorette season on aliluvs.com), she's taking it easy now that she's at 37 weeks. With her July 13 due date nearing, the first-time mom, who is expecting a baby girl with fiance Kevin Manno (read the latest about her wedding planning on The Knot!), talked to The Bump about her upcoming labor day, the crazy Bachelor baby boom and which Bachelor alum has been giving her baby advice.
You're on modified bed rest. What's that been like?
My doctor essentially advised me to take it really easy and trust my body. For me, modified bed rest means I can go out and do things, but I just have to rest often. I've found the more active I am—even if it's just a walk around the block—the worse my Braxton Hicks contractions get. I get them all day, every day—sometimes over 10 an hour. They just recently started to get painful—not super painful, but enough that I was bending over in discomfort. The way I describe them is it's like getting lightly pinched on your arm. The first pinch isn't bad, just uncomfortable, and the same goes for the next 10 pinches. But then imagine being pinched in the same spot 50 times; those pinches would go from uncomfortable to painful. Just the other day they were so bad I thought I might be in labor, but my doctor assured me I wasn't.
Is your hospital bag packed and ready to go?
Yes! My friend just had a baby so she gave me great advice on what to pack, like an extension cord to charge my phone while keeping it close to the hospital bed. I also packed pajamas, baby clothing , nursing pads, a cord blood kit, all-natural makeup, lotion, lip balm, a nursing bra, hair brush, a camera and a phone charger.
What are your three pregnancy must-haves?
Naturally-flavored seltzer water: Drinking plain old water gets so boring. I mix it up by splashing seltzer with organic, non-alcoholic margarita mix. It tastes like an actual margarita (minus the tequila) and it's so refreshing!
Maxi dresses: I have two jersey-fabric maxi dresses that I wear all the time. They aren't even maternity sizes but they are super stretchy, comfy and perfect for these hot summer months.
Body pillow: I've slept with a pregnancy pillow since the 10-week mark. I didn't even need it then, but was so excited about being pregnant that I started using it early—and now I can't sleep without it! Every night Kevin does a funny little routine where he says goodnight to me, my belly, our dog Owen and lastly to the pregnancy pillow; it's basically a third person in our bed.
What's been your favorite (and not so favorite) part of pregnancy?
The hardest part has been my uterine irritability, which is why I get all these Braxton Hicks contractions. It's been really challenging at times—not just physically, but emotionally. That said, I'm so grateful to be pregnant since I know some women don't get the opportunity, and I can't even pretend to know that kind of pain. My absolute favorite part is feeling my baby girl inside my belly. I vividly remember the first time I felt her kick and how magical it was! Once she's born I know I'll miss feeling her wiggling around inside of me.
There's a Bachelor/Bachelorette baby boom happening. Are you getting advice or tips from fellow new moms and moms-to-be?
It's an exciting time for Bachelor nation with so many babies! Trista Sutter reached out with some great advice: she told me to utilize the hospital nurses as much as possible after delivery, and especially at night so I can get some much-needed sleep.
What's something about pregnancy that nobody warned you about?
I'm a little obsessed with reading everything I can about pregnancy and what's going on with my body so I really don't think anything has happened that I wasn't prepared for, except for my hair. I thought it was supposed to get super shiny and strong, but mine's become straw-like and brittle.
Are you excited or nervous for labor and delivery?
Both! I was solely excited up until about a week ago, but now that it's getting close I'm starting to freak out a bit. I look down, see this huge belly and think, 'How the heck is she getting out of there?' I guess I'll find out soon!