Ali Fedotowsky Welcomes a Baby Girl!
Bachelor Nation has a tiny new member.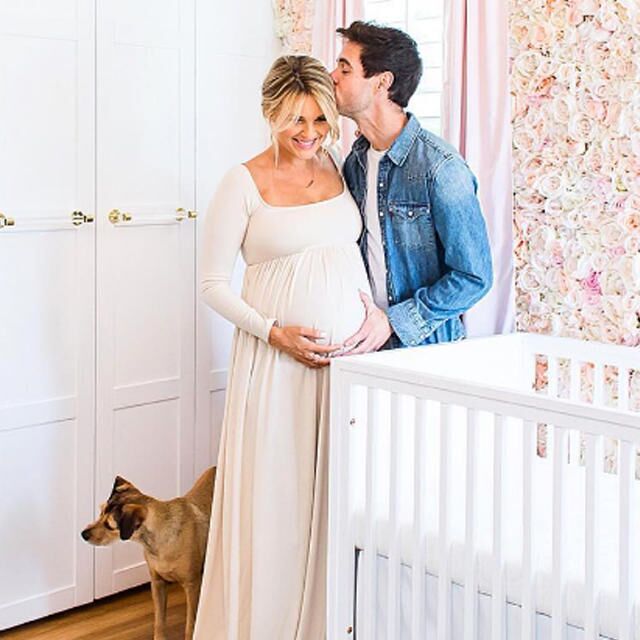 The newest Bachelorette baby is here! Ali Fedotowsky and fiance Kevin Manno welcomed baby girl Molly Sullivan Manno on Wednesday, July 6.
The couple confirmed the news to Us Weekly, explaining their daughter is named for Fedotowsky's late grandmother, Molly Fedotowsky, and Manno's late grandmother, Eva Sullivan.
In an interview with The Bump two weeks prior to giving birth, Fedotowsky expressed nerves about labor and delivery. "I'm starting to freak out a bit. I look down, see this huge belly and think, 'How the heck is she getting out of there?' I guess I'll find out soon!"
Weighing in at 7 pounds, 6 ounces, baby Molly fortunately made it out just fine. And her arrival is likely a welcome relief for Fedotowsky, who was on modified bed rest and experienced Braxton Hicks contractions on a daily basis throughout her third trimester.
"The hardest part has been my uterine irritability, which is why I get all these Braxton Hicks contractions," she told The Bump. "It's been really challenging at times—not just physically, but emotionally. That said, I'm so grateful to be pregnant since I know some women don't get the opportunity, and I can't even pretend to know that kind of pain."
While Fedotowsky hasn't had a chance to update her blog, AliLuvs.com, just yet, Manno stepped in to write a post on her behalf on Tuesday.
"If [Ali] doesn't have something to post, she gets a little stressed about it, and my job right now is to alleviate her stress," he writes. "That's why I decided to give her a day off and write something myself."
After recommending all expectant parents take a babymoon and applauding his fiancee's toughness through Braxton Hicks, Manno takes a moment to explain what fatherhood means to him.
"Everyone loves talking about how hard it is to have a newborn in the house! I'm sure that's true, but that newborn is going to be half Ali and half me. I've never loved anything more and I haven't even met her yet."
We can't wait to watch how this couple adapts to parenthood. Never one to hold back from her fans, we know whatever Fedotowsky decides to share won't disappoint.