Baby's Blanket Death: a Heartbreaking Reminder for Crib Safety
It's never safe to bring bedding into a crib.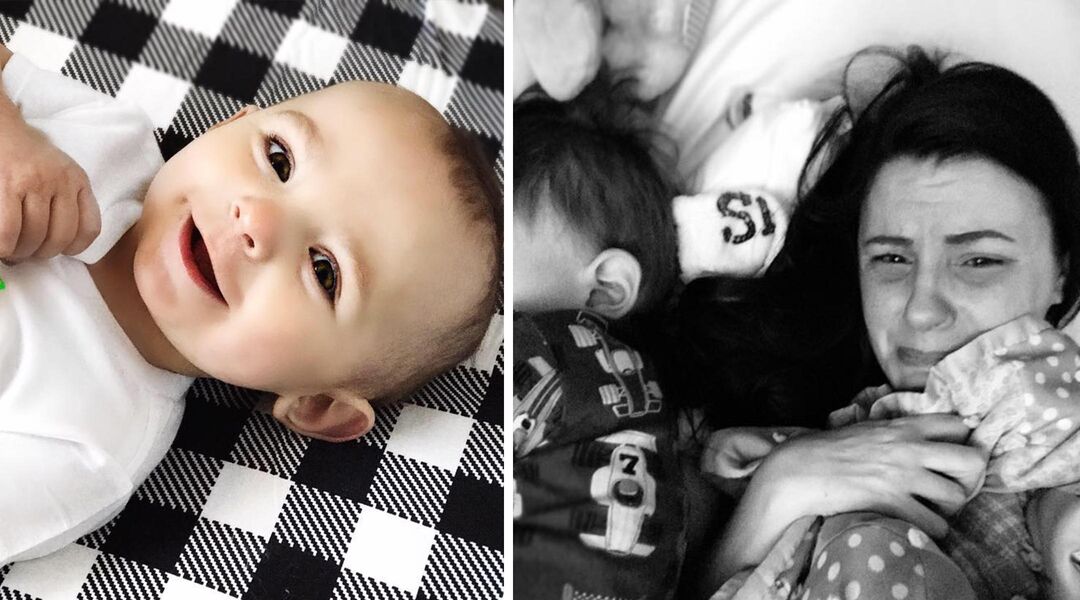 About 90 percent of SIDS cases occur before baby hits the 6-month mark. So when Jordan DeRosier's 7-month-old baby went to bed with his favorite blankets, she assumed he'd be fine. Tragically, this wasn't the case. And now DeRosier's sharing the story of his death to help prevent other families from experiencing her unimaginable grief.
"He was last laid down to bed with this blanket made by his great-great grandmother, and one other blanket, a grey one he had been attached to since birth," wrote the Washington mom about her youngest son, Sloan.
Sloan suffocated in the middle of the night after getting tangled in the blankets. In a follow-up Facebook post, DeRosier explains she was the one who found him unresponsive the next morning.
"I went in to get him from his crib at 9:48 am, opened the door and noticed he was on his stomach with his beloved blankie around only his head," she says. "I yanked it off, touched his back and felt that he was ice cold. I flipped him over and a blood curdling scream for [husband] Justin escaped me."
The next six hours brought a stream of neighbors trying to perform CPR, paramedics and even detectives. But ultimately, there was nothing anyone could do.
"He was 7 months old; I thought because he was crawling, standing on his own and climbing, that he would be fine with a blanket," DeRosier says. "You never think it will happen to you. You never think it will be your baby. Please do not put your babies to bed with a blanket. Please."
In addition to making this plea for crib safety, DeRosier publicized her story to clarify something that didn't cause Sloan's death: vaccines.
"To those who keep commenting and messaging trying to blame vaccines for our son's death—stop," she says. "Initially I had not wanted to explain the detailed circumstances of his death because of my guilt and the fear of condemnation from others. But I will not allow anyone to try and place blame where it does not belong."
In last year's update recommendations for baby sleep safety, the American Academy of Pediatrics (AAP) confirms that vaccines aren't linked to SIDS. In the same report, the AAP made several recommendations for baby's first year to help reduce sleep-related deaths. They include:
Infants should be placed on their backs for both naps and overnight sleeping through 12 months old
Infants should sleep on a firm sleep surface covered by a fitted sheet with no other bedding, blankets or soft objects
Parents are encouraged to share their room—but not their bed—with baby for the first 6 months, and ideally the whole first year