Mom Turns Baby's Naptime Into Dress Up
Time to step up your dress up game.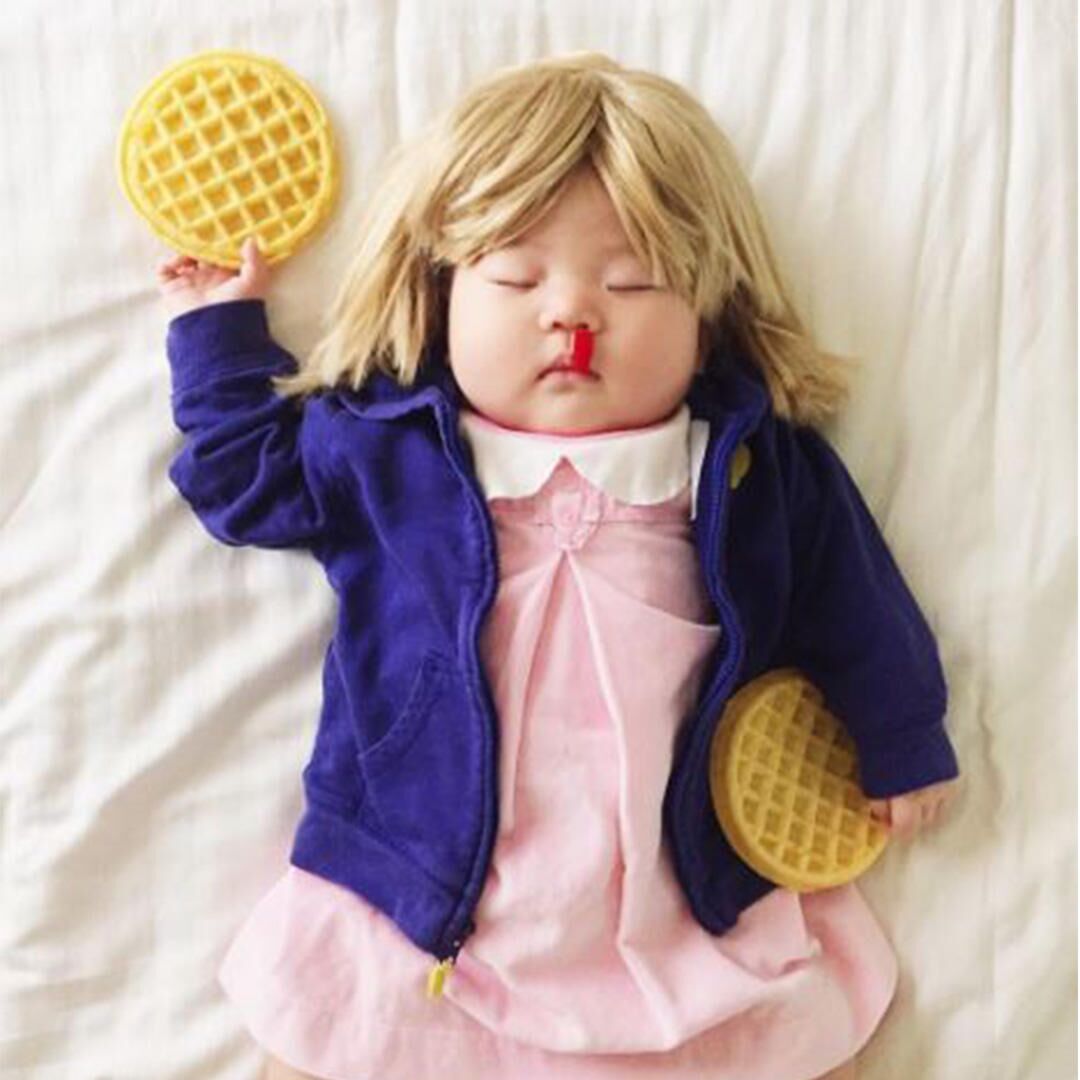 There are so many things to love about a sleeping baby: the way he or she smiles in her sleep, those fluttering eyes during dreams and, of course, the chance to actually catch some shut-eye yourself. But one mom has proved the best thing about a sleeping baby is the opportunity for fuss-free dress up.
Laura Izumikawa, a first-time mom to 4-month-old daughter Joey Marie Choi, has taken dress up to the next level. The LA-based photographer is no stranger to the camera. Having only focused on weddings and portraits, Izumikawa admits she was a little nervous to do work with her newborn. "I didn't know how to handle such delicate subjects, but now I think I have the hang of it," she tells The Bump.
From Beyoncé to Pikachu, there's no look that baby Joey can't pull off.
So what inspired this series of adorable naptime photos?
"People tell you when you have a newborn to sleep when your baby sleeps," Izumikawa says. "That didn't happen for me because I would end up just staring at her face all day and night because I was just so in love."
So Izumikawa decided to have some fun while Joey napped, adding props to her sleeping baby and snapping photos to share with family. "It was a way to memorialize her growth and little milestones."
Izumikawa admits that her husband doesn't always know what's in store for Joey's next photoshoot before it's live on her Instagram account. "He says he likes being surprised and gets a total kick out of it when he sees it during a break at work," she says.
As most parents know, dressing a fussy baby is no easy feat. So how does Izumikawa do it? "[I] dress her up in the main outfit first, spend some time playing with her before she passes out and then add everything else that requires her to stay still," she says. "I always do what I call the arm-drop test: I lift one of her arms and drop it to see if she flinches. If she doesn't flinch, which is usually the case at the first attempt, then I continue."
Even when Joey does wake up during a photoshoot, Izumikawa says she'll just flash her a smile and go back to sleep or be alert and ready to play.
"I hope that these photos and videos will make people smile and also remind parents to have fun with their kids and not get too caught up in the seriousness of parenting," Izumikawa says.
They certainly have us smiling. Here are our 10 favorites:
Beyoncé
All the single babies! #Beyonce
Stranger Things
Our friend has superpowers, and she squeezed your tiny bladder with her mind. #StrangerThings #eleven
Cinderella
Why can't Cinderella play soccer? Cuz she keeps running away from the ball.
Pikachu
Hey babygirl, let me take a pik at chu. #pokemon
Finding Dory
Just keep swimming! Can't wait to watch Finding Dory!
Cheerio's Challenge
A #CheeriosChallenge went down.
In-N-Out Burger
Where do hamburgers go to sleep? On a bed of lettuce. #InnOut
Karate Kid
Get him a body bag! YEEEAH!! #karatekid
Sia
Sia in my dreams #Sia
Fixer Upper
In the mood for some renovations around the house after watching @fixerupperhgtv but our little "Jo" is not helping. #demoday #fixerupper