Study Challenges AAP Infant Sleep Guidelines on Room Sharing
And the AAP is welcoming this new data.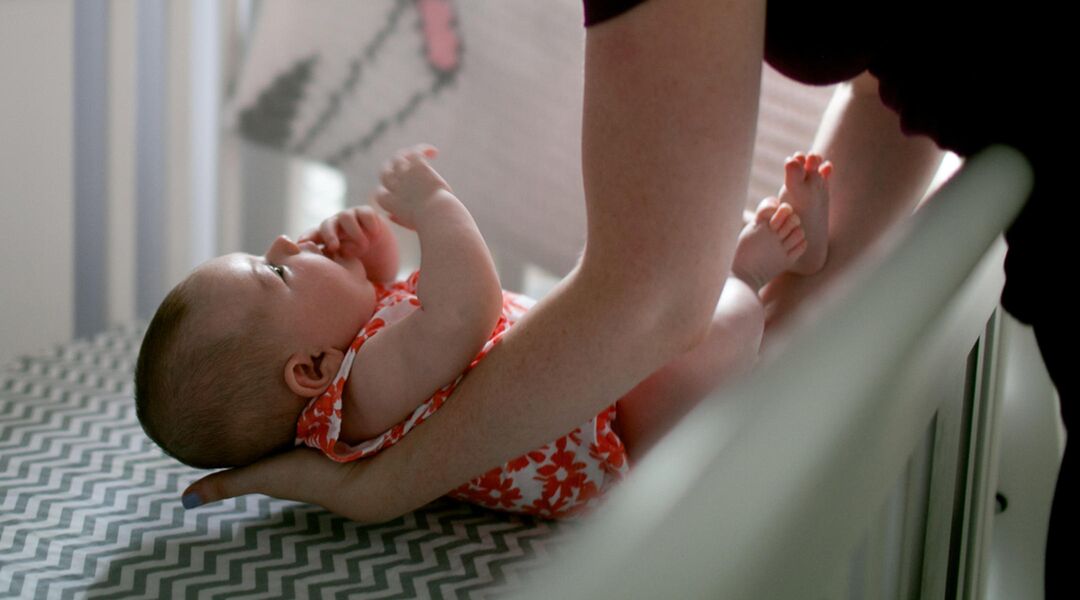 When baby isn't sleeping through the night, you're not either. And a new study says that you might just be the problem. Parents abiding by the American Academy of Pediatrics recommendation to room share (but not bed share) with babies through the first six months (and ideally a year) reported their babies were getting about 40 minutes less sleep.
The study, conducted by pediatrician Ian M. Paul, MD, MSc, of the Penn State College of Medicine, seems to undercut AAP guidelines. But it's less controversial than it seems; in fact, it was published in the AAP's very own journal, Pediatrics. The goal was to assess the real-life implications of the AAP room sharing guidelines, which went into effect in October. The question: How does room sharing, if at all, influence sleep outcomes for baby?
The answer: Not super well. After dividing the babies of 230 first-time mothers into room-sharers and independent sleepers, researchers found that at 4 months, babies in their own rooms had the longest stretches of uninterrupted sleep by an average of 45 more minutes. By 9 months, those independent sleepers had 40 minutes on the room-sharers. (And babies who started sleeping on their own before 4 months—early independent sleepers—averaged 26 more minutes of sleep than later independent sleepers.)
The differences between the groups seemed to disappear at 12 months, but the benefits proved long-term. By 30 months, toddlers who had been sleeping in their own rooms at 9 months were getting 45 minutes more sleep than those who weren't.
"This can make a huge difference for sleep-deprived parents," Dina DiMaggio, MD, AAP Spokesperson, tells The Bump."However, with that said, it is not certain if a baby sleeping longer stretches is a desirable in young infants. The ability for babies to arouse is critical, and a leading thought is that failure to arouse could put a baby at risk for SIDS."
This information doesn't yet serve as a new recommendation for infant sleep practices, but does open up the discussion about different options based on your family's needs. And the AAP welcomes the data.
"Although the sample size of the new study was rather small and the sample was not very diverse in socioeconomic status or race, since there are very few studies looking at sleep outcomes in roomsharing and solitary sleeping (sleeping in a separate room from the parents), the article by Paul, et al. Pediatrics, is still a much needed study," DiMaggio says.
This new study also calls into question whether room sharing is actually safer, helping to prevent SIDS—which occurs prior to 6 months old in 90 percent of cases—as intended:
"Perhaps our most troubling finding was that room sharing was associated with overnight transitions to bed sharing, which is strongly discouraged by the AAP. Bed sharing overnight was more common in our sample among 4- and 9-month-olds who began the night on a separate surface in their parents' room."
Additionally, there may be other negative health implications of extended room sharing. The potential resulting lack of sleep in infancy is a risk factor for obesity down the road. Separately, researchers note that separation anxiety increases as the 1-year mark, making the transition to a nursery difficult if parents wait a full 12 months.
"The new study raises some important points about the balance of protecting babies from SIDS while also keeping in mind the importance for parents getting needed rest for their own well-being," DiMaggio says. "The AAP has not changed the sleep guidelines yet, but recognizes that every policy has unintended consequences, and that more research is needed. As new research emerges, perhaps new modifications of the sleep guidelines will occur, but the primary goal will always be to minimize unintended infant deaths."