Miracle Baby Beats the Odds to Clear Brain Fluid
Even his doctors didn't see this one coming.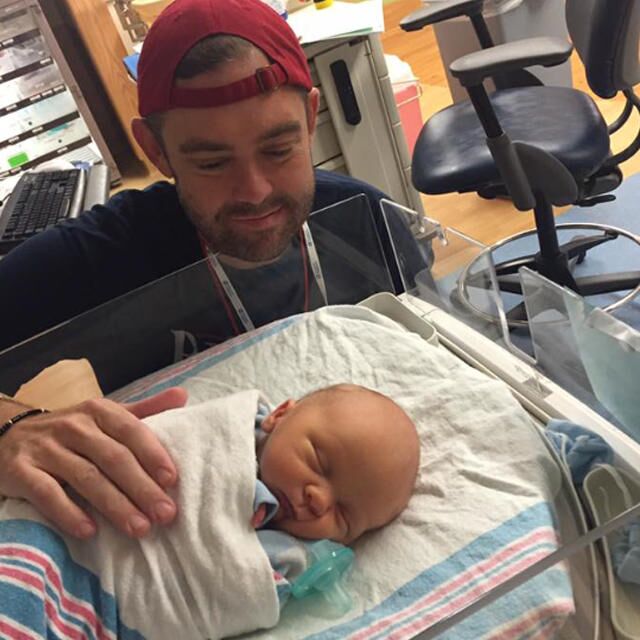 At a time when most expectant parents are framing sonograms and decorating the nursery, Nick and Brooklyn Schnarr were meeting with palliative care regarding the fate of their unborn son. Ultrasounds showed the baby had hydrocephalus, a condition where fluid builds up in the skull, causing the brain to swell. The Indiana couple was referred to Cincinnati Children's Hospital.
"The baby's condition was off-the-charts bad," Nick writes on Facebook. "It was so extreme that the specialists stopped measuring and monitoring his brain's fluid level because, at that point, it didn't really matter. The MRIs were sickening to look at. We were told, point-blank, that there was over a 90 percent chance that the baby would either die shortly after birth or have such severe cognitive impairments that any quality of life would be hard to imagine."
Brooklyn relocated to Cincinnati to be close to the hospital while Nick commuted back and forth, taking care of their two daughters. On July 8, Brooklyn went into labor and a c-section was arranged. Several frank conversations had prepared them for difficult scenarios. But something surprising happened: Their baby boy started crying upon delivery.
"[It was] the sweetest sound I have ever heard," Nick writes, explaining the cry indicated a breathing tube wouldn't be necessary. In fact, the cry was one of the first signs that Charlie was a healthy baby boy.
"He seems to be a normal, beautiful baby doing all the things that babies do," Nick says. "He has mild ventricular enlargement, but we can deal with that with checkups. How did this happen? The doctors said, 'We do not have and cannot come up with a medical explanation for what we've witnessed here.' Somehow, his brain found a way to naturally 'clear' the blockage or reroute the fluid that was causing the oppressive backup of brain fluid."
Nick shared this post on July 17, one day after Charlie left the NICU and came home. His overwhelming feeling? Gratitude.
"From the bottom of my heart, thank you, thank you, thank you for all of your thoughts, prayers, notes of encouragement, cards, texts, emails and outpouring of love," he says. "Prayer is positively powerful."
See the full post below.