Batman-Loving Girl Inspires Her Mom's Pregnancy Announcement
Gotham City is gaining a new resident.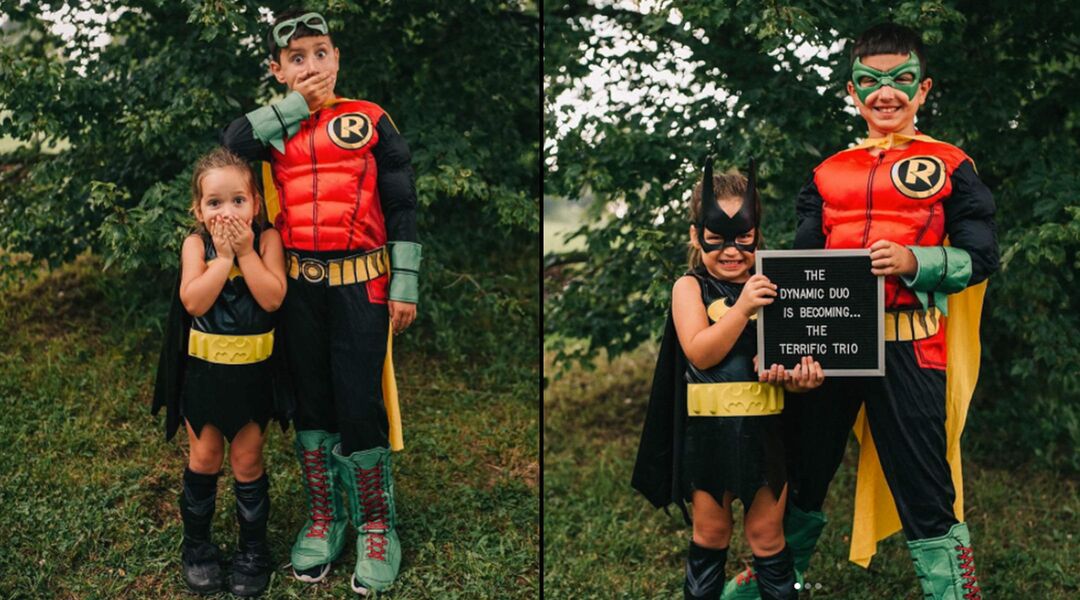 Holy diapers, Batman! A 4 year old's love for the Caped Crusader inspired her mom's recent pregnancy announcement, and it's capturing the hearts of superhero fans everywhere.
Cara Boyer, an Indianapolis mom of two, uploaded a photo earlier this month of her daughter Evie, 4, and son Grayson, 9, dressed as Batman and Robin, respectively, holding a letter board that reads, "The dynamic duo is becoming… the Terrific Trio."
Boyer humorously added, "We are officially CRAZY! #halp #holydiapersbatman #nannywanted #letterfolk."
Baby No. 3 is due Valentine's Day 2018. And despite how it looks, Evie and Grayson's costumes weren't part of an elaborate pregnancy announcement plan.
"[Evie] rarely leaves the house without at least one article of clothing featuring her favorite super hero.," Boyer tells The Bump. "Last Halloween she dressed up as Batman and our son Grayson was more than happy to be Robin along with her."
After spotting a Batman onesie while shopping, the kids asked if they could buy the onesie for their future brother or sister. Naturally, the onesie (and Evie's love for Batman) inspired the Terrific Trio announcement.
"We are all looking forward to welcoming the new baby into our family this winter, but despite Evie's best efforts, he or she will not be named Batman," Boyer says.