Photographer Captures Parenting Chaos in Totally Awesome Photo Series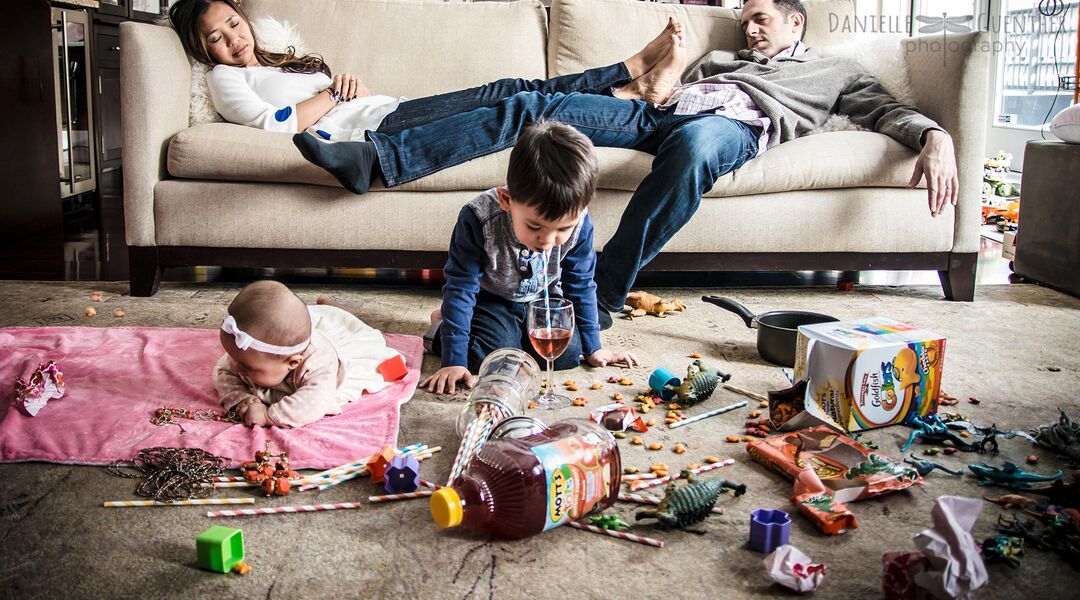 Here's photo evidence that parenting isn't easy.
In fact, real-life parenting can be messy and crazy — which is what inspired lifestyle photographer and mom  Danielle Guenther  to capture that chaos in a photo series titled " Best Case Scenario."  From kids rebelling in the grocery store to Mr. Mom basting a baby instead of the turkey, these dramatic photos are sure to make you laugh (and make you breathe a sigh of relief that you're not the subject of them).
Inspiration struck during one of Guenther's lifestyle photo shoots. "At the end of the session, [the client] laid down on the couch after being exhausted (as parents are), and it gave me the idea to do a funny image.  So we went with it," Guenther tells The Bump. The first photo of the series, "Parenting is Exhausting" is featured above.
After posting the photo on Facebook, more families wanted to get involved. "I didn't expect to get so much response from it," admits the New York-based photographer. "But I think the idea that parenting isn't perfect, and to capture those crazy moments you experience as a parent has been interesting to some.  They are obviously dramatized, but only to show how you really feel in the moment when things go awry!"
Now, she has a collection of relatably dramatic scenarios. Take a look for yourself:
"Oh NO!!!"
"Clean Up on Aisle 5!"
"Keep Your Head in the Game"
"A Day at the Spa"
"Escape Plan"
"Just Another Mouth to Feed"
"Hold On a Sec…"
Lucky for us, Guenther isn't done yet. She's currently working on a few more shoots and brainstorming ideas for the future.  Do you have any suggestions — send them our way!