We're Crazy in Love With This Beyoncé-Themed Office Baby Shower
Best. Coworkers. Ever.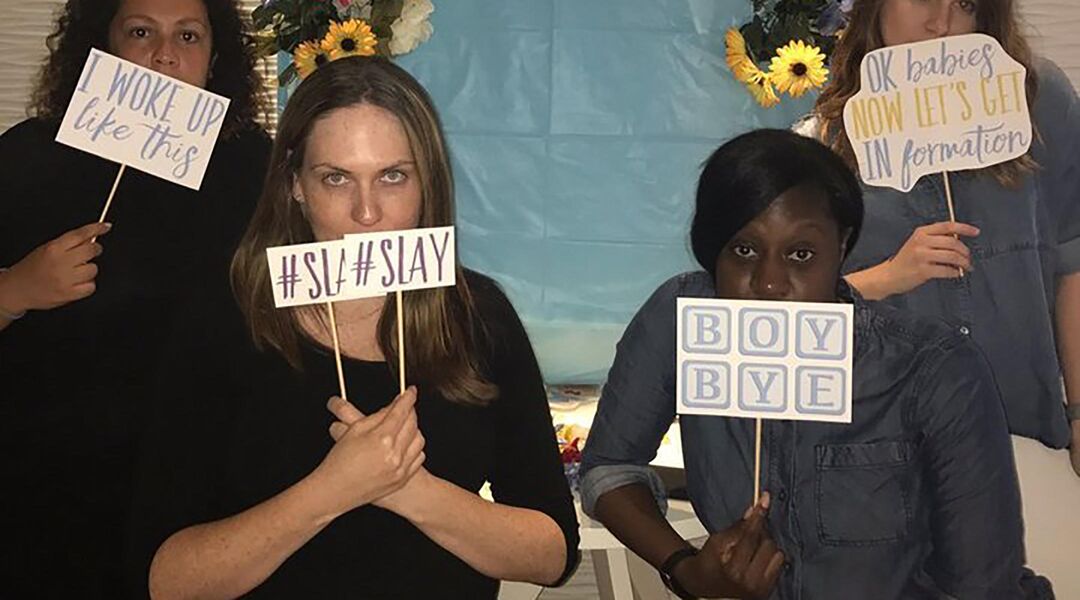 It goes without saying that it's kind of impossible to outdo Queen B when it comes to all things baby. After all, Beyoncé's iconic maternity shoot and birth announcements for her twins Rumi and Sir basically broke the internet. So to celebrate the upcoming birth of a worker's twins, one New York City office did the next best thing: throw a Beyoncé-themed baby shower.
The marketing department of the Manhattan-based office tool company Humanscale knew that their coworker Katie loved Beyoncé, so they arranged a baby shower setup that would make any fan Jealous. There was a donut tower with a sign reading "OK babies, now let's get in formation." There was a photobooth complete with a veil and flowers to imitate Beyoncé's famous pregnancy shoot. There were prop signs with different Beyoncé-isms. There was even a game called "Say My Name" à la Destiny's Child to see if attendees could match babies' names to their celebrity parents, according to the Huffington Post.
When coworker Riley Andreu tweeted a picture of the shower, the internet went wild.
"It was a group effort," Andreu told the Huffington Post. "Katie is a huge Beyoncé fan and is pregnant with twins, so when it came time to plan her baby shower the theme just clicked."
It turns out that the whole affair didn't cost that much, either. Andreu said that the office printed all the decorations themselves. Even better, Andreu, a graphic designer, made the signs available on her Etsy shop. In other words, this baby shower doesn't have to be the Best Thing (You) Never Had – you can totally pull off a DIY version.