Mom Celebrates Postbaby Body in Photoshoot: 'There's No Bouncing Back Here'
If you can't change it, love it.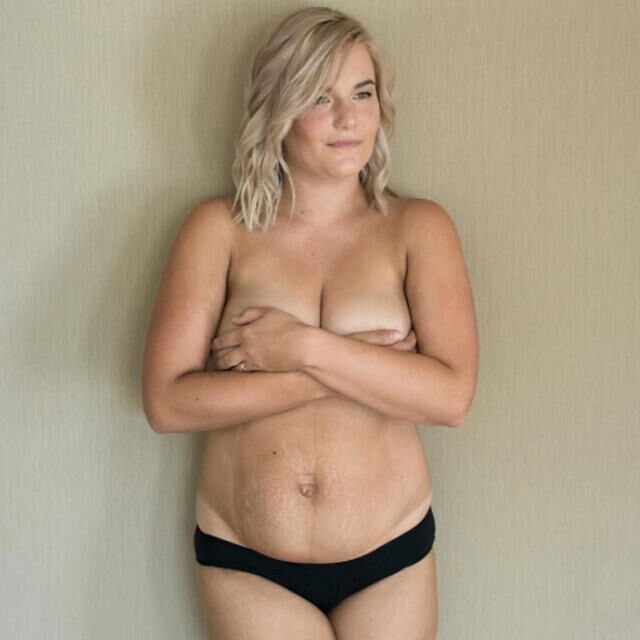 Olivia White isn't ashamed of her postbaby body. In fact, she staged a photoshoot to embrace it.
The Australian blogger behind motherhood and lifestyle website House of White posed for a series of images that put the focus on the changes many of us might try to hide. On Instagram, she posted one of the photos alongside a moving tribute to the body that brought her Annabelle and Teddy, her two daughters.
"Puffy face, droopy milk-filled boobs, wider hips and belly full of stretch marks! That's my postbaby reality, no 'bouncing back' here!" White writes in the caption. "And you know what? I couldn't give a sh*t! Because I'm not the same person I was before I had babies, so why would would I want my body to reflect something and someone I no longer am? Those droopy boobs fed my babies and grew them up big and strong. Those hips and rippled belly were home to my little babes for nine months. It might not be the 'transformation' body so many ogle or aspire to! And sure, some days I wish it didn't jiggle so much and was a bit 'firmer' but then I just remember the awesome stuff it's done and cut myself some slack and go eat a cheeseburger, because we earned it."
The post was shared on Love What Matters, where it's received over 14,000 likes.
In an email to The Bump , White revealed the inspirations behind the shoot: her daughters.
"I certainly felt the pressure to 'bounce back' after my first daughter, but after a while I realized I was doing myself and my daughter a disservice by obsessing over it," she says. "What I do now and how I see myself will rub off on my daughters. I try to instill in them that it's about loving yourself, enjoying life and everything in balance and moderation!"
This week in particular—World Breastfeeding Week—the shot of White nursing her daughter, Teddy, is probably our favorite. From bloggers to celebs like Mila Kunis, we love women who use their voices to normalize breastfeeding.
In a recent blog post, White opened up about dealing with nursing challenges like limited milk supply, cracked nipples, tongue tie and mastitis. "Everyone's breastfeeding journey is different, and while it may come easy for some it won't always for others and it's important to not put too much pressure and expectation on yourself," she writes.
If White's message isn't enough inspiration, check out our guide to self-love after birth.