Breastfeeding Mom Shamed in Store With 'Giant Picture of Boobs'
The irony is staring us right in the chest.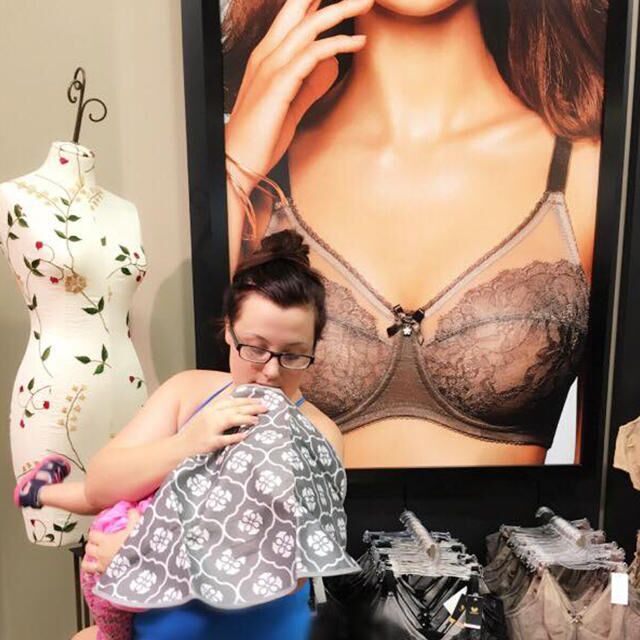 One of the biggest ironies we face as women is the fact that people always want to see our breasts, until we're feeding a baby—then it's considered indecent. One nursing mom is calling attention to that double standard after she was asked to feed her baby in a Tennessee Dillard's bathroom while a giant poster of a woman's chest hung on a nearby wall.
"When I found a place [to nurse], I asked if it was okay for her to eat here," Whitney Hale writes on Facebook. "The employee at customer service nodded. I then began to nurse my child. I discreetly pulled my shirt down and her head covered me up. The same lady then told me I could not 'do that' here; she told me I would need to go to the restroom."
The Dillard's employee proceeded to give Hale directions to the nearest restroom, "down the hall, take the elevator, then around the corner," Hale writes. "I'm sure my hungry child would understand that we have to take a journey to somewhere more secluded where she can eat…NOT."
Hale asked for the manager to file a complaint, which she did later, online. Before leaving the store, she snapped a photo in front of the giant bra advertisement exclusively featuring a woman's chest to capture the hypocrisy of the employee's comments.
Hope ends her Facebook post with this question: "Why is it acceptable for a giant picture of boobs to be on the wall but I can not feed my child?"
Legally, Hale was in the right. Moms across the country can breastfeed wherever, whenever duty calls; 49 states have laws on the books protecting a woman's right to nurse in public. Some states have gone a step further. Last month, New York passed a law that will create lactation stations in certain buildings across New York City for moms who prefer a little more discretion.
Sex certainly sells, but this mom won't be shopping at Dillard's anymore. If you want to support a mom's right to breastfeed in public, join The Bump's Boobolution. These moms have already joined the cause, will you?