Watch One Dad Eat Under a Blanket to Support Breastfeeding in Public
The struggle is real.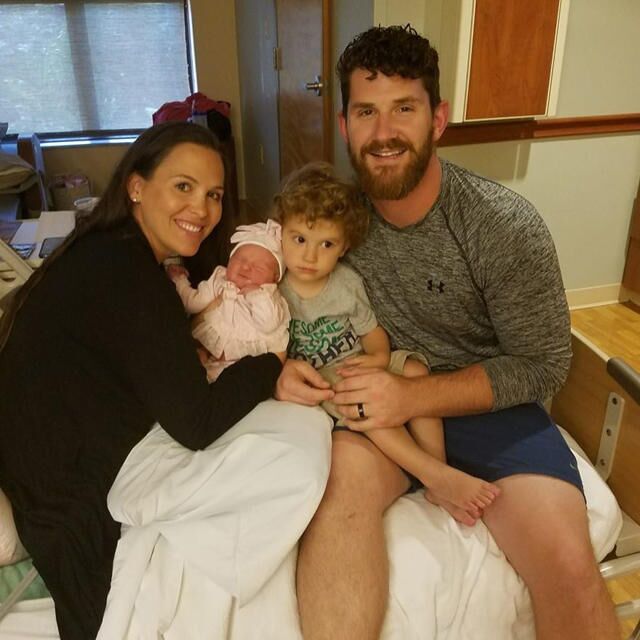 There's some parenting duties that even the most doting dads just can't do. Breastfeeding is one of them. But that didn't stop Brock Smith from trying to show a little empathy as his wife nursed in public. And the video of his valiant efforts is going viral.
Earlier this month, Smith was out to eat with his wife, Lauren, who was nursing their 2-month-old daughter under a blanket.
"This evening was abnormally hot, and our daughter Everly was having a rough time latching to my wife because she was hot and uncomfortable under the cover," Smith tells PEOPLE. "So my wife says, 'Well Brock, would you like to eat underneath a blanket!?' So, trying to find the fun in everything, I threw a blanket over my head for the rest of my meal and dessert."
Lauren recorded a video of Brock's antics to demonstrate just how difficult—and impractical—it is to eat while covered up. That's exactly what he hoped to convey by sharing it on Facebook.
"As a dad and a husband, I've had enough of this asinine argument," he captioned the video. "Lauren and I are starting a movement."
With over 71,000 views, the video has received quite a positive reception, contributing to Smith's goal of normalizing breastfeeding for his wife.
"The anxiety with nursing in public with our first child, Elliot, now 3, was so real that she hardly ever left the house," Smith says. "This second time around, I've made it my mission to make her feel as comfortable as possible in every situation."
Smith isn't the first dad to prove this point. In 2014, blogger Jason Greene shared a photo of his three children attempting to eat cereal with blankets over their heads.
"In honor of National Breastfeeding month, I made my kids eat their lunch under a blanket just like the old days of when they were infants," he posted along with a photo of the kids at the table. "It turns out it isn't the ideal way to eat. Who knew?" It's refreshing to see men lending their support and their voices to such an important cause. With August's Breastfeeding Awareness Month right around the corner, we encourage more dads to speak up.