Couple 'Practices' Parenting With Their Cardboard Box of Embryos
Because to them, it was way more than just a cardboard box.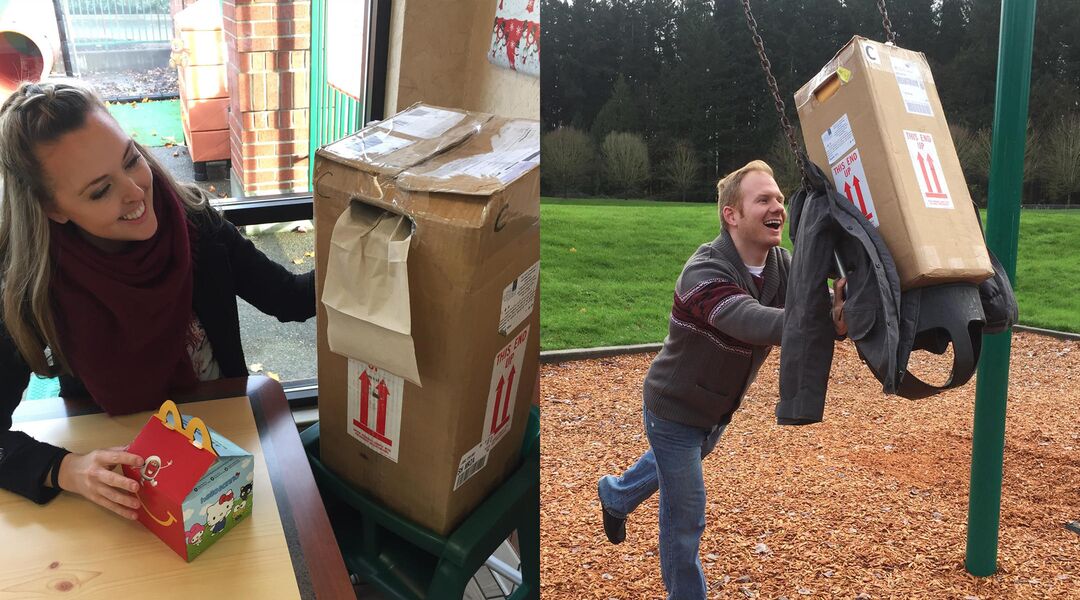 Any couple that has gone through an IVF journey can tell you that it's a rollercoaster ride. With so many uncertainties, finding humor in the bumps in the road to baby can feel like a challenge. But one Oregon-based couple was determined to fill their IVF journey with joy (and even a little silliness). Here's how: They actually practiced parenting with their cardboard box of cryopreserved embryos.
In a series of photos shared by the Facebook page Love What Matters, parents-to-be Mickey and Samantha Clark documented the journey of the cardboard box that contained their embryos to their new fertility clinic. And they made a few stops along the way.
"We knew that if nothing ever came from that cardboard box that at least we had spent one day as 'Mom and Dad,'" Samantha says. "It was a day full of daydreaming and laughter. And we had one day with the thought of infertility being a distant memory and not a devastating reality."
The Clarks brought their little-box-of-joy to the playground, a pet store and McDonald's. They even squeezed in a pit stop for the box to help them pick out their Christmas tree. It was a no-brainer for the Clarks, who saw the box as more than just a piece of recycling.
"That cardboard box held our future," Samantha says. "It contained our dreams, our blood, sweat and tears. It literally contained tiny pieces of us that would change everything we ever thought we knew about life."
Whatever happened during the cardboard box's journey must have brought the Clarks a lot of luck. They welcomed triplets—two girls and a boy—on Aug. 18, 2017.