This Wrap Is Helping C-Section Moms Do Skin-To-Skin
This is a game-changer.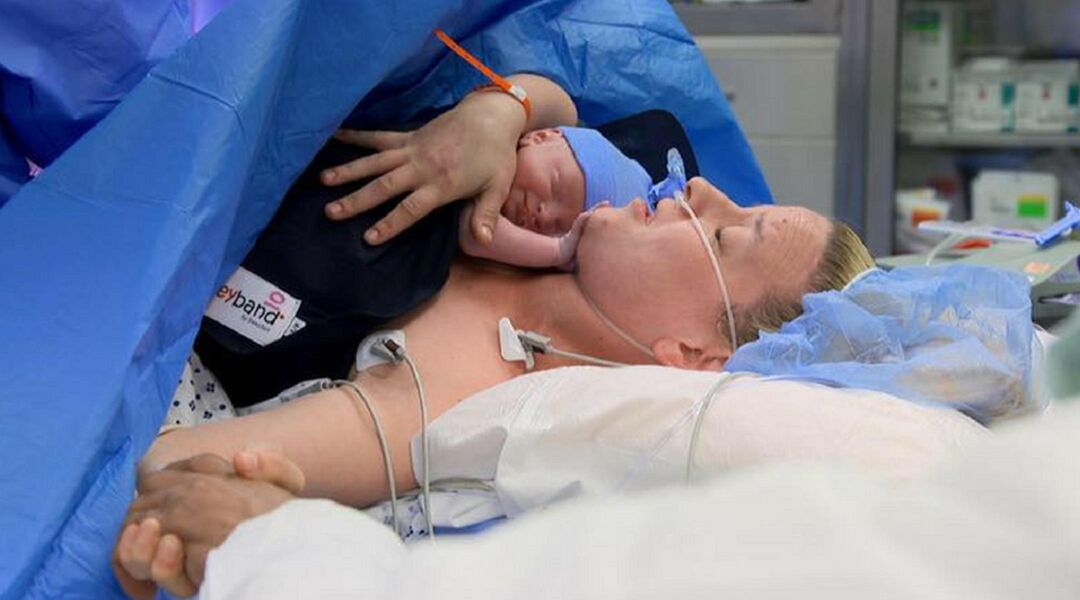 Skin-to-skin contact immediately after delivery has major benefits for both baby and mom, from promoting bonding to making breastfeeding easier. But because of surgical practices and operating room procedures, women who deliver via c-section may have to wait anywhere from five to 30 minutes before holding their baby for the first time. This new wrap can change that.
Although we've seen inventions such as a c-section drape help facilitate skin-to-skin in the OR, the Joeyband is designed to make the whole thing a little safer.
"Mom is medicated and unable to use her arm because of the IV," co-inventor Hayley Mullins tells Babble. "She is physically unable to hold the baby securely herself."
Mullins and her sister, Ashley Wade, designed the Joeyband to help prevent baby from slipping, falling or losing any medical tubes during skin-to-skin. For Mullins, it's partly a passion project; she dropped her 2-week-old while giving skin-to-skin a go.
"Two weeks after she was born, she was asleep on my chest when I took my hands off of her," Mullins says. "In a split second, she startled and fell to the floor. I tried wraps, carriers, slings and babywearing shirts, but just wanted something that would simply belt my sleeping baby to me."
The wrap offers four positions that can be used to help moms with skin-to-skin in a variety of settings outside of the home, including the delivery room, operating room or the NICU, making it especially helpful for preemies.
Learn more about the Joeyband and its benefits here.