This Mom Just Shattered the Jogging Stroller Half Marathon Record
And her training partner's at a loss for words.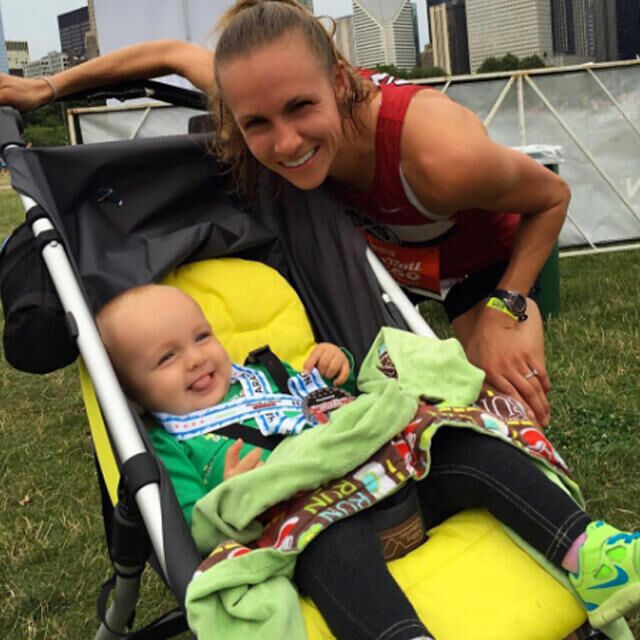 When Olympic-hopeful Julia Webb fell short of qualifying to toe the line of the 3000-meter steeplechase trials this year, she set her sights on achieving a different athletic accomplishment. With her 9-month-old daughter, Paula, along for the ride, Webb cruised to a new jogging stroller half marathon world record earlier this month in Chicago. She clocked a time of 1:22:57—or 6:20 pace per mile—shaving over four minutes off the previous record for the 13.1-mile distance.
"I was not content in stopping just as I was now feeling healthy, motivated and energized to do something fun with the fitness I had gained," the runner writes on her blog, Run Team Webb. "I looked at a different challenge, which was picking up other unfinished business after my pregnancy with my second daughter: that whole "stroller running" record-chasing business."
Also mom to 2-year-old Joanie, Webb's logged some serious miles with her Mountain Buggy Terrain jogging stroller. In 2014, Webb set her first record with a jogging stroller, running 38:15—or 6:09 pace per mile—for a 10K. She wanted to give record-breaking a go at a longer distance, and knew the Rock 'n' Roll Marathon Series staff would be one of the few to bend the rules and welcome strollers.
"The crowds were amazing; the other racers were inspiring and kept me going after it," Webb writes. "I hope that by running this record, it can inspire moms and dads to see their fitness doesn't have to suffer just because you have the added responsibility of the baby. It's still possible to maintain fitness from your pre-parenting days if you find creative ways to involve your kids in your workouts."
Most jogging strollers are not recommended for running use until baby is 6 months old, but Webb and her husband Alan—the American record-holder in the mile—opted for their own training workaround by securing their infants in the car seat attachment.
Dads love the jogging stroller glory too. In February, Calum Neff clinched the male jogging stroller half marathon record in Katy, Texas, running a time of 1:11:27. His preferred set of wheels? The Thule Glide.