Kaley Cuoco's Next Job: Baby Shower Planner?
Associate Editor, The Knot
Published
Feb 2016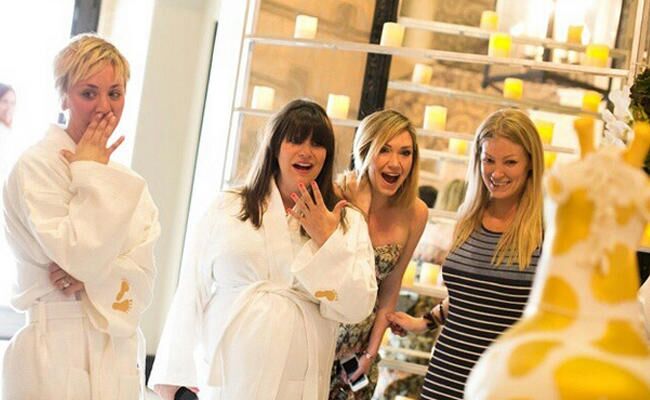 Leave it to Kaley Cuoco to throw the most luxuriously over-the-top baby shower we've ever seen! We know that Mrs. Ryan Sweeting  loves to throw a good party, and she didn't disappoint when she hosted her pregnant BFF and makeup artist Jamie Greenberg's decadent baby shower luncheon at her Los Angeles home on October 18.
Greenberg, who's expecting a baby boy named Simon (noted from the incredibly large ice sculpture stating his name), got the full luxury treatment at her bash with a lounge area, a spa station with masseuses and manicurists, a band, a onesie decorating table and customized waffle robe gifts for the guests.
Oh, and let's not forget the coolest rotating giraffe cake we've ever seen (made by The Butter End Cakery, who also made Cuoco and Sweeting's upside-down-hanging-from-the-ceiling wedding cake masterpiece for their 2013 nuptials).
A trendy gourmet lunch was also served, with quinoa, a raw juice bar, veggie spreads, mocktails, a candy station, cookies and liquid nitrogen ice cream on the menu, according to PEOPLE.
But could Cuoco really top this baby shower for herself if she has exciting news in the future? The Big Bang Theory actress and newlywed said on The Ellen DeGeneres Show earlier this year that she "can't wait" to have kids, but would also be a party planner in another life.
Kaley, you're hired.
See photos and videos of the shower here:
"Just a teeny tiny baby shower for my favorite chick on earth! @jamiemakeupgreenberg."
"Thank you to @thebutterend for this perfect Giraffe cake and to my adorable partner in crime @clsymonds !!!"
"FAVORITE CAKE ALERT! Am seriously over-the-moon for this oh-so-elegant giraffe cake. Feeling really fortunate to be Kaley's go-to for all things cake!! @normancook …love her! #babyshowergiraffecake #thebutterend #drycakeisdumb."
"Ain't no party like a cuoco party forealzzzzzzzz @normancook #gratefulbeyondbelief #babyshower."
"It's baby shower spa day!! #laurentatumevents #normancook."
"Our beautiful table centerpiece. #laurentatumevents."
"Everyone needs a lovely lounge area. #laurentatumevents."
"A special song for the mama to be! #laurentatumevents #normancook #jamiemakeupgreenberg."
"A little morning pampering… #laurentatumevents #normancook #jamiemakeupgreenberg."
"The "sweet"est things… #laurentatumevents #eventplanning #eventdecor @jamiemakeupgreenberg."
"Here comes the pitter-patter of little feet. @lauren_tatum_events @normancook."
"Dessert!"