Why This Mom Started Pumping in the Lobby of a Major Hotel
Please do not disturb.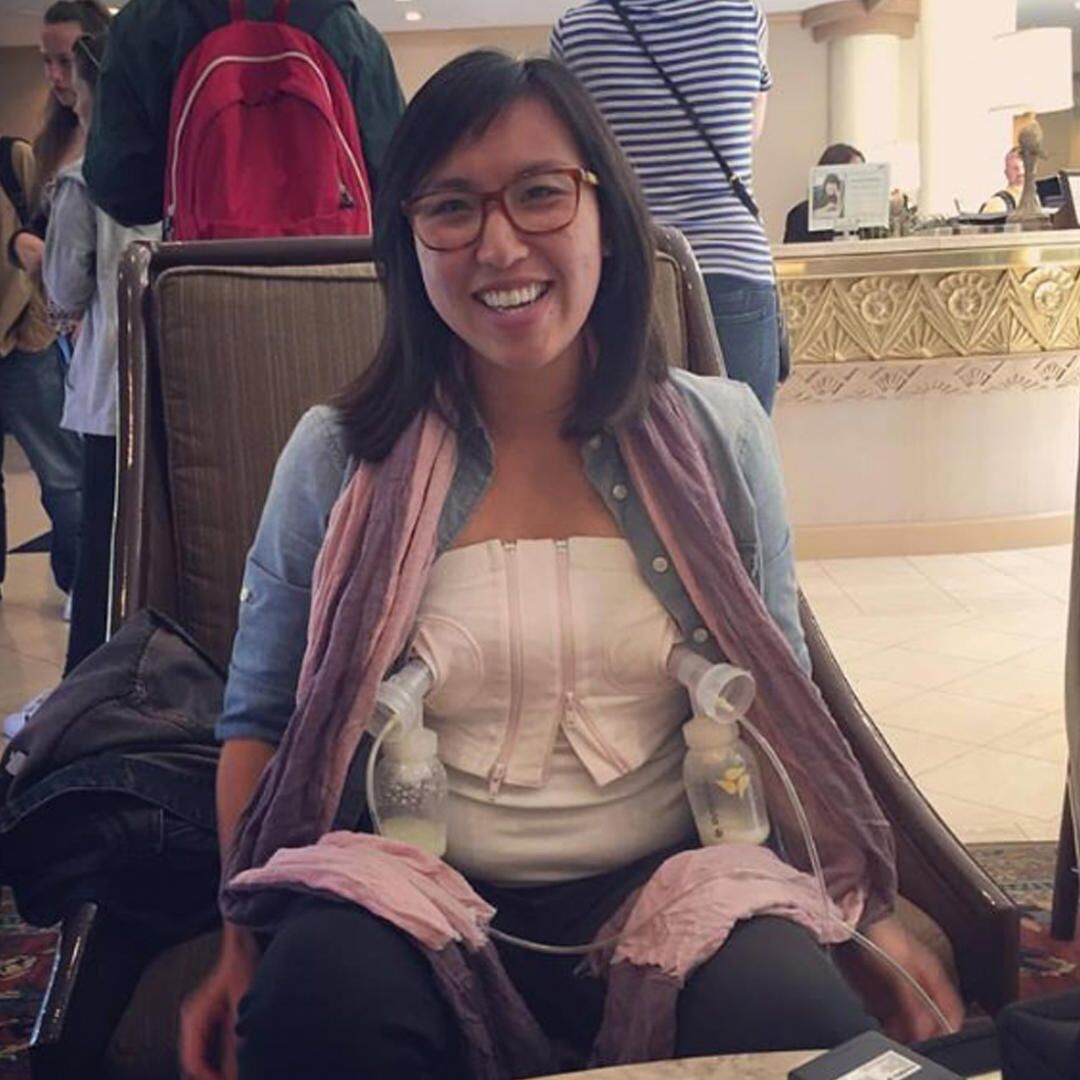 All Lynda Nguyen wanted was a private space—other than a bathroom—to pump. But when employees at San Francisco airport's Embassy Suites failed to accommodate her, she resorted to her secret weapon: her right to breastfeed and pump in public.
Nguyen, a social worker, was at the hotel for a seminar and didn't have her own room to retreat to. She shared her experience on Instagram and Facebook, along with a photo of herself pumping in the lobby.
"[I] went to front desk to ask if there's a private space where I can pump, and was told by two different staff to use the bathroom," she writes. "I told them they don't eat lunch in the bathroom, so it's gross to expect me to contaminate baby's milk in there. I was met with so much resistance."
Without further ado, here are the six excuses Nguyen says Embassy employees made:
Since Nguyen hadn't paid for a room reservation, she couldn't pump in a hotel room. (Nguyen says that since she paid a fee to attend the seminar, she was a paying customer.)
Staffers said all the rooms were booked. (Nguyen found vacancies on Expedia.)
They expressed discomfort at putting Nguyen in an uncleaned room. (Nguyen wondered how a bathroom could be preferable.)
Employees countered that they didn't have any offices for Nguyen to use—only the general manager had an office, complete with glass windows that wouldn't offer much privacy. (When Nguyen said she was fine with windows, they said they couldn't actually allow her to enter the room.)
They said conferences rooms wouldn't offer any privacy since the doors didn't have locks. (When Nguyen said that didn't matter, they simply stated they weren't comfortable putting her there.)
Employees said since no members of their staff are nursing, this is a non-issue for them. (As a major employer, though, Embassy Suites is required by law to offer a clean, private space other than a bathroom for current or future employees who need to pump.)
At long last, they came to an agreement; Nguyen could pump in the wine cellar.
"Based on principle, I decided to pump in the lobby next to reception," Nguyen says. "F**k you, @embassysuites. I'm livid. I spoke to the GM and expressed their need to train their staff, and reiterated how appalling it was to be quickly dismissed without any attempts to accommodate my need and offered a bathroom because sir, you don't eat where you sh*t, so why should my baby? He apologized profusely."
Like many nursing mothers scorned before her, Nguyen's certainly made an effective statement. Her Facebook post has been shared nearly 20,000 times and she's received an outpouring of support from women sharing their own pumping experiences—good and bad—in all sorts of conditions.
Based on her conversation with the general manager, Nguyen believes it's inconsistency in staff training—not Embassy Suites policies—that resulted in this mishap. More than anything, it emphasizes the need to keep up the fight to normalize breastfeeding.
One last thing, in case you were curious: Nguyen's pumping bra is by Simple Wishes.
The Bump has reached out to Embassy Suites for comment.