Mom Donates 131 Gallons of Breast Milk After Losing Son
She used her grief for good.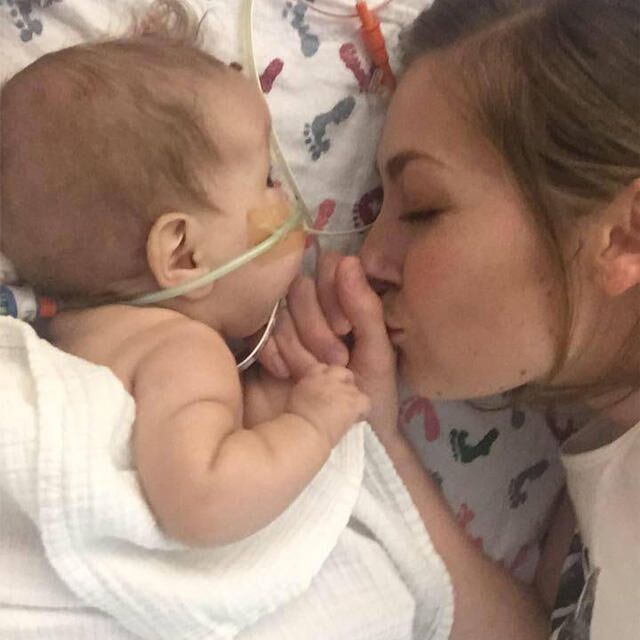 To give her sick baby boy the best odds possible, Demi Frandsen maintained an incredibly strict nursing schedule. Although Leo didn't make it, Frandsen kept pumping. And pumping. And pumping. Now, she's gifting Omaha Children's Hospital and Medical Center with the largest milk donation it's ever seen—17,503 ounces, or 131 gallons—to help other babies keep fighting.
Leo was born two months early with a rare condition called gastroschisis, in which organs are exposed outside of the body. While some babies can have surgery to correct this, Leo's small size and underdeveloped lungs made things difficult. He lived in the NICU for 10 months, passing away on October 22 of last year.
Although Leo couldn't nurse—he could only handle a small amount of milk swabbed onto his lips—Frandsen fastidiously pumped to keep up her supply in the hopes Leo would one day be well enough to drink it. For six months, she pumped every three hours.
"To stimulate a letdown, I would hold a heated rice bag by my chest to mimic the warmth of a baby while looking at pictures of my sweet Leo," Frandsen tells TODAY.
After Leo passed away, Frandsen found the idea of letting her supply dry up devastating.
"Telling my body to stop producing milk for a baby that wasn't here anymore was even more emotional than not being able to actually nurse him while he was here," she says. "It's a mother's instinct to provide for her baby, and I had to make my body stop that instinct."
So with the encouragement of her lactation consultant, she pumped for several more weeks, ultimately storing 131 gallons. Mother's Milk Bank, who partners with Omaha Children's Hospital, processed and pasteurized the donation.
"I know the desperate feeling of needing your baby to be okay," Frandsen says. "I wanted to help those moms who felt that same ache in any way I could. If they needed my milk for their babies, I felt honored to be able to give one tiny contribution to that baby's fight."
This isn't the first time we've heard these sentiments. In 2010, Amy Anderson lost her son, Bryson, in utero. Days later, her milk began to come in. She pumped for eight months, yielding 11,762—nearly 92 gallons—of milk.
"It became an obsession to produce as much breast milk as possible because I knew someone would benefit," she tells The Bump. "I knew I had to get these connections in place, teach, advocate and educate moms everywhere. This is what Bryson's life is about."
While Bryson and Leo may not be here today, their legacies certainly live on.