What Made This Mom Wear a Bikini for the First Time in 20 Years
"I am more than enough."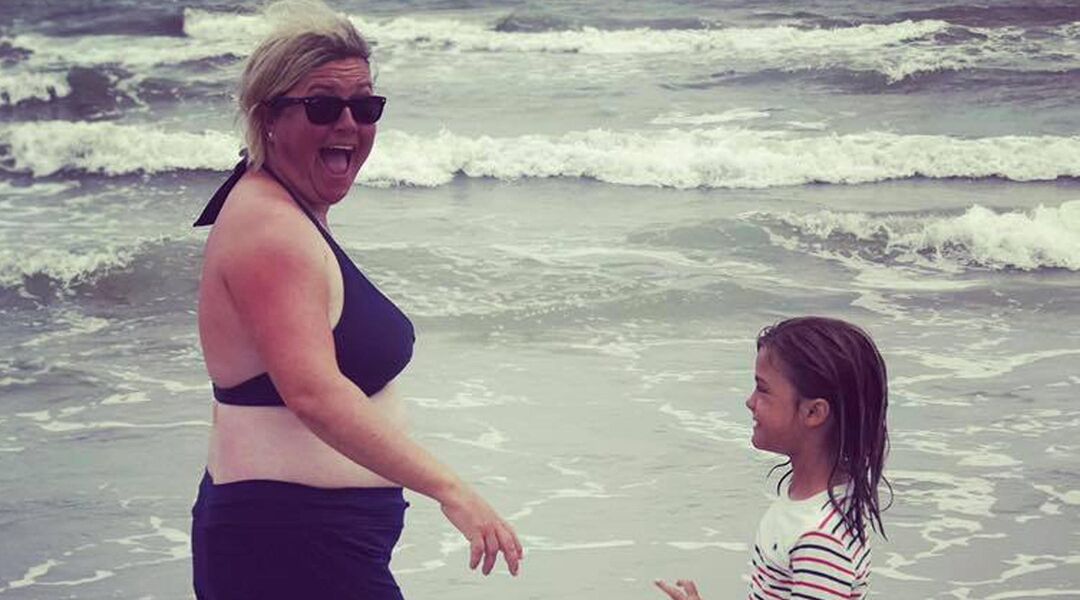 "Are you going swimming? Where is your shirt?"
When asked this question by her almost-8-year-old daughter, Adrian Wood took a moment to reflect. "She only knows a mother that swims in a shirt. When had I become that person?"
Wood, the blogger behind Tales of an Educated Debutante, took to Facebook yesterday to explain what she learned about herself from the situation.
"You haven't worn a bikini top in twenty-something years," she writes. "Your stomach hasn't seen the light of day since you were 30 pounds lighter…Why does it matter? Does it even matter? Who cares?"
Her observant daughter cares—"the little girl that scrutinizes her mother at every step, every turn, every crossroad and yes, even every shirt."
"So, today I took it off and I was more uneasy than I care to admit, ashamed almost," Wood writes. "Pale belly, full breasts, thick torso; I haven't been that exposed on a beach since I became a mother."
While Wood admits she wasn't 100 percent comfortable without the beach cover-up she'd grown so used to, she reminded herself her imperfections are part of her identity as a mom.
"You are flawed, I tell myself. Scars, battle wounds, a c-section scar: none are pretty but they tell a beautiful story."
Ultimately, Wood comes to an empowering conclusion:
"I am enough. I am more than enough. I am strong. I am imperfect and I love with my whole heart."
Consider this another friendly reminder that there's nothing horrifying about a bikini after baby. In fact, watch these moms embrace the experience of trying one on for the first time postpartum.