Photographer Explains What It's Like to Document a Newborn's Final Hours of Life
It's about finding beauty amidst the grief.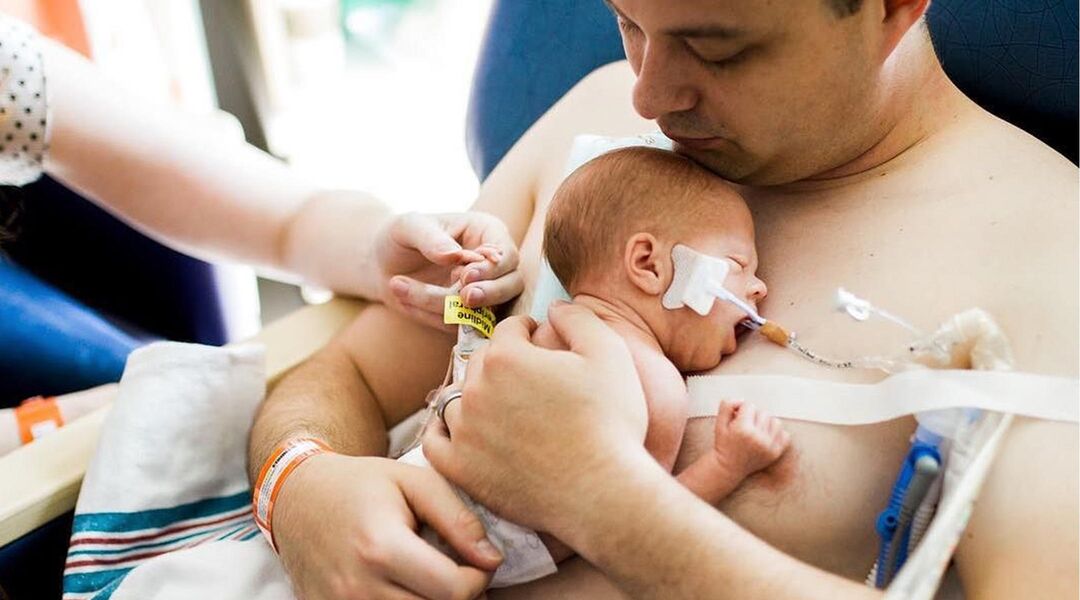 When you think of newborn photographers, you may think of someone behind the lens, capturing the first few days of a baby's life. But Rebecca Clair was tasked with capturing not the first, but the last few hours of Benjamin Levi's life.
The Kansas City, Missouri, photographer shared the experience on her blog earlier this week.
"At the end of June, I had the profound privilege of spending a couple hours in the NICU with my friends and their newborn son Benjamin," Clair writes. "Benjamin was born alive but unresponsive after suffering a severe brain injury in utero."
Benjamin suffered from Hypoxic Ischemic Encephalopathy (HIE), a type of brain damage that occurs when an infant's brain doesn't receive enough oxygen and blood. "It could have been a stroke, a moment in time when the umbilical cord was pinched, or a metabolic disorder," Katie Egli, Benjamin's mom, tells The Bump. "The truth is we may never know how or why Benjamin suddenly wasn't receiving oxygen."
Unfortunately, Benjamin's injury took place a day or more before he was delivered. Egli was taken into the hospital for an emergency c-section, but there were no treatments or interventions the doctors could perform.
"As a mother, there was also no way of knowing what had happened to him in the womb," Egli says. "In fact, I went to a midwife appointment the morning prior to his birth and, because his heart was beating at a healthy pace and I was measuring normal, I had an uneventful appointment with no reason for concern."
Benjamin lived for eight days after his birth. On the day that his family planned to remove Benjamin's breathing tube, Clair was asked to come to the hospital and photograph the family as they snuggled him.
"Their skin-to-skin times with Benjamin are some of the precious memories they hold onto from his time in the NICU," Clair writes in her blog.
"I was a little nervous to enter this space with them, because I had never photographed anything like this before and it would be an understatement to say that the moment felt weighty," she continues. "But at the same time, I had never felt the value of photography as deeply as I did in that room."
After the doctors removed Benjamin's breathing tube, he surprised his family and medical staff by breathing on his own. His family took him home later that day, where he passed away on July 2.
Clair shared a few photos and snippets of her work with Benjamin and his family on her Facebook page over the course of a few days before his death.
On July 10, after receiving permission from Benjamin's family to share his story, Clair published her blog post. The essay highlights the "beauty of his short life."
"Because even in the midst of the heartbreak, those two hours in that NICU room were full of more beauty and peace than I could have ever imagined," Clair writes. "And so each click of the shutter as I witnessed these moments of beauty became a thank you. A thank you for the preciousness and purpose of Benjamin's little life, even in such a short amount of time. And a thank you for the privilege of witnessing this little bit of his story."
Benjamin's parents plan to use the photos to celebrate and reflect on his life.
"It's been two weeks since Benjamin's passing and we already have them on our mantle," Egli says. "I ordered three canvas prints that will go in our bedroom, a safe place where I can reflect and cry if I need to. We're also making a photo book so I can tell Eliette, 18 months, about her baby brother as she gets older."
Essentially, the photos are an important part of helping the family heal.
"Because of the photos I feel like I'm not grieving alone," Egli says. "Everyone close to me has met Benjamin up close through the images we've been able to share."
Read Clair's full blog post here.