Why Moms Are Criticizing Pink's Babywearing Post
A case of too many cooks in the kitchen?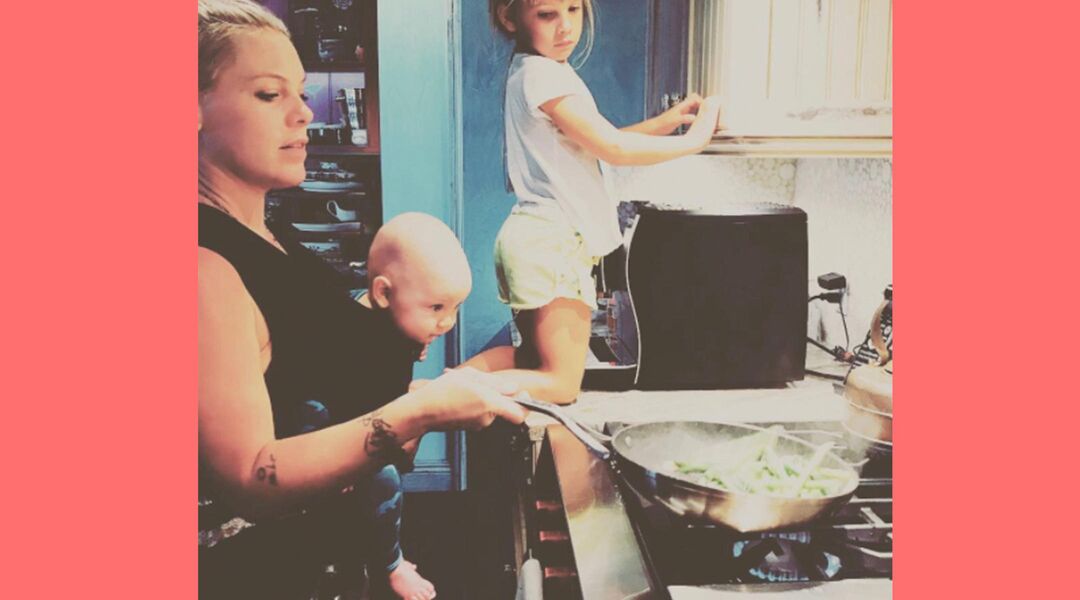 Step aside, Ryan Reynolds; another celebrity is under fire for wearing their baby in a baby carrier. Pink is the latest Hollywood parent taking heat for posting a seemingly innocent photo of herself and her kids cooking dinner.
In the Instagram post, Pink's second child, Jameson, 7 months, is adorably eyeing dinner from the vantage point of mom's chest as she handles the pan.
Most commenters thought it was adorable. Some thought it was dangerous.
"I babywear all the time, except when I'm cooking hot meals. The better alternative, I suppose if you really must, would be wearing the baby on your back. Not directly facing the hot stove," one user says.
"I'm not usually picky like this, but you seriously are endangering your child wearing them while next to the stove like that, especially face first," another says.
On the other hand, dozens of users praise the singer's multitasking abilities—and the fact that she's cooking dinner at all.
"This picture is real AF and I love it," another comment reads. "My kids sit on the counter and help me cook as well, when my son was a baby I had him in a carrier just like this when I cooked and he's still alive and kicking! Not like you're frying bacon or chicken."
Point taken. The reality is Pink, like so many busy parents, is multitasking. But the cautionary tale is babywearing near a hot stove can be a safety issue. Last year, a mom shared the story of a close call after she was badly burned.
"On Tuesday I was involved in an accident where my stove burner exploded and sent a fireball to my face, neck and chest," Molly Landis posted on Facebook. "The worst of my burns is to my chest–exactly where [my baby's] precious little head would have been lying if she were in her carrier."
Landis explained that she often wore her then-4-week-old in a wrap carrier while in the kitchen.
It was a freak accident, but one that did happen to one mom.
In any case, Pink's still a rockstar in our book. She's a breastfeeding advocate and a babywearing badass. And she's not trying to claim that she's perfect.