This Traffic Violation-Turned-Pregnancy Announcement Has an Even Sweeter Backstory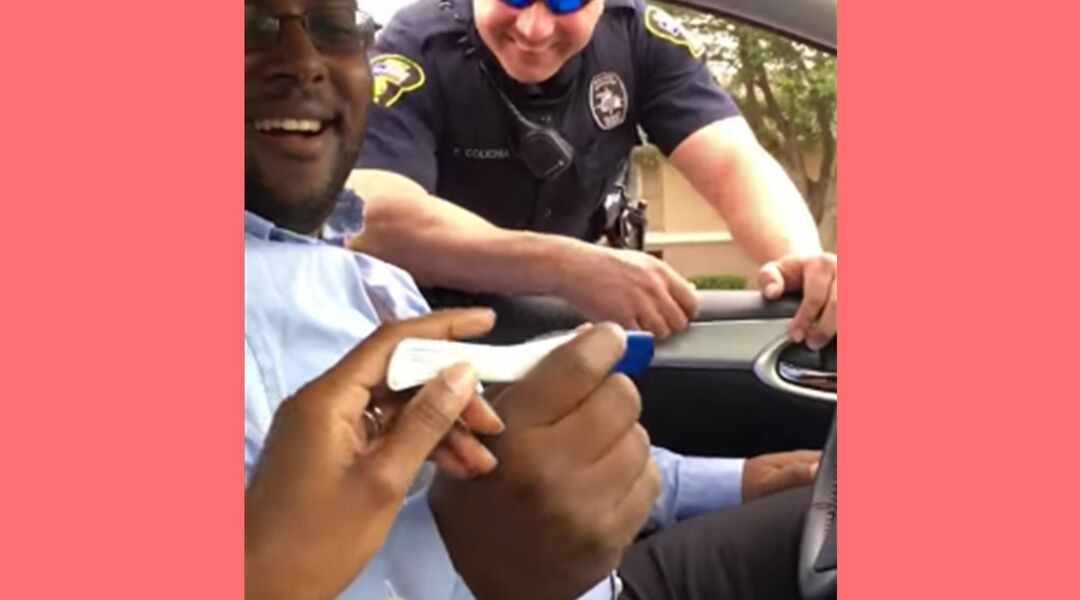 Jarred Wright was sweating when he was pulled over by the Hurst, Texas, police. And he started sweating even more after an officer helped his wife pull off the most heartwarming pregnancy announcement we've seen in a while.
As the officer approaches the car, it becomes clear he knows Wright. The two briefly exchange pleasantries, but the officer gets right to it:
"The reason why I stopped you is because you've got a child in the car with no child seat."
Wright is visibly and audibly confused, "I don't have a child in the car."
"Are you sure? Are you positive about this? Are you saying I goofed?" the officer asks as Wright's wife holds up a positive pregnancy test.
"We do have a child in the car with no car seat," she says.
We can't stop smiling.
This good news comes after a particularly hard year for Wright. According to a Gofundme page created after the YouTube video went viral, the army veteran is heavily medicated for PTSD, generalized anxiety disorder and major depressive disorder.
"I am a veteran of the US Army. I served in Operation Enduring Freedom -Afghanistan from 2013-2014," he writes. "I've been struggling with my psychological disorders, being admitted to an inpatient hospital twice within the last six months and numerous Emergency Room visits due to panic and anxiety attacks. I actually met the officer in the video during a very traumatic panic episode in November 2016 and ever since he's become a great advocate for my family and I."
Wright is about halfway towards his goal of $2,000 to offset hospital bills associated with his disorders.
"I would like to focus my time on gaining control of my combat-related PTSD, GAD, and MDD so that I can be better for our baby," he says. "Thank you so much!"