Egg Freezing 'Pop-Up Shop' Draws Crowds and Questions
You can't freeze time. But you can get pretty close.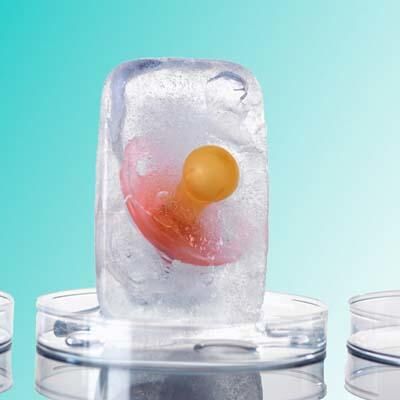 When a beauty brand touts its anti-aging products can stop time, even skeptics might let their curiosity get the better of them. A new pop-up shop, Timeless, appeared inside London's Old Street Station this week boasting exactly that. But intrigued shoppers found there was nothing for sale at all.
The elaborate display, complete with fake elixirs, lotions and perfumes, was part of a creative campaign to spark discussion about elective egg freezing, in which women choose to freeze their eggs for non-medical reasons. Because, after all, there's no innovative solution for stopping your eggs from aging.
The brains behind the operation? Sarah Douglas and Amanda Gore, directors of creative consultancy The Liminal Space, who were particularly struck by Facebook and Apple's 2014 decision to offer egg freezing to staff members.
"It caused so much conversation in our peer group, as women in our 30s, that we felt it was really pertinent to us and our friends," Douglas tells Vice. Her goal, along with Gore's, is threefold: to provide factual information on what the egg freezing process involves, explore the social factors behind women's choices, and to spark discussion free of the subjective opinions typically linked to the procedure.
"We thought there was a real gap there to provide well-informed, clear, accessible information about something that could potentially have a huge impact on women's lives," Douglas says.
One particular message the partners hope to impart? You can't freeze time and you can't keep your eggs viable with a healthy lifestyle, but you can freeze them for later use.
The displays within the shop resemble those at any cosmetic store, but offer much more impactful information. Take the bottles on the wall, for instance. Lined up in numerical order reflective of a woman's age, each is filled to a percentage representative of fertility rate at that age. Bottle 22? Only half full. And by the 30s? Nearly empty.
No, Douglas and Gore aren't just showcasing fertility stats in the hope that women go running to their local clinics for a consult. Their aim is to present all the facts from all angles. For instance, another display mimics a cosmetic three-step system, outlining the steps that go into egg retrieval. Multiple hormone injections and blood tests result in an extended, costly procedure that women may not anticipate.
Another takeaway? Because of the newness of elective egg freezing, we still have a lot to learn.
"Pretty much everybody we've spoken to has had a slightly different version of an answer on the likelihood of success, and that was pretty scary," said Douglas