Pregnant Woman Gives Actual Trophy to Man Who Gave Up His Subway Seat
We really shouldn't need an award for this.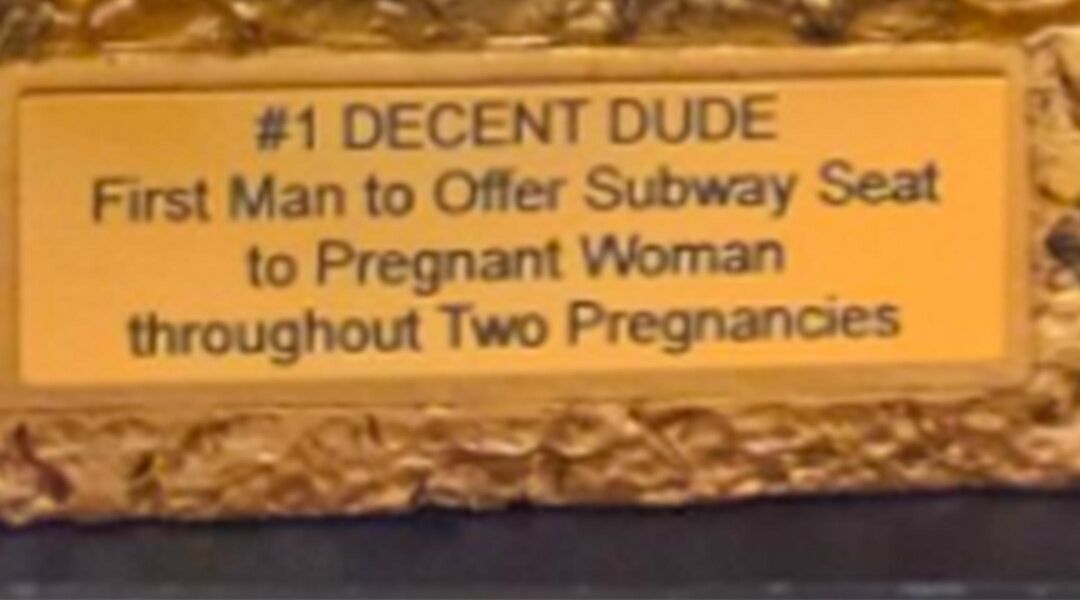 Chivalry was almost dead. But eight months into her second pregnancy, one New York mom was able to reward a male subway passenger who gave up his seat for her.
More specifically, Yvonne Lin was able to reward the first male passenger to ever offer her a seat after nearly two entire pregnancies. Knowing that, if this ever happened, it would be a momentous occassion, she actually had a trophy at the ready to bestow the rider.
The trophy, a 7-inch Incredible-Hulk-esque award, bears the inscription "#1 DECENT DUDE. First man to offer subway seat to pregnant woman throughout Two Pregnancies."
Lin tells DNA Info that plenty of women have offered her seats, but never a man. So she started a social experiment.
"I was getting no seats from men," she said, "if I finally get a seat from a guy then I have to celebrate this some way and make sure he knows he's appreciated."
She rode the train at rush hour. She dressed to show off her bump. While she always had a card on her to present the first guy to stand up, her first pregnancy came and went without a winner.
Then, she got pregnant again. She decided to raise the stakes and upgraded the award to a trophy. On Feb. 24, one man finally rose to the occassion.
"He looked up at me and looked super startled and embarrassed," Lin says. "He immediately stood up and said, 'Please take this seat, I just noticed.'"
While she didn't catch his name, Lin was able to snap a photo of the father-of-two with his award.
We may be learning a lesson here: For better or worse, praise works better than scolding. Last year, a pregnant Olivia Wilde fired off a scathing tweet after no subway riders offered up their seats.
While many tweeted back in support, others were annoyed, telling her to take an Uber.
By taking a more light-hearted approach to the issue, Lin hopes to encourage other New York men to step up.
"If men just gave up their seats the same amount of time or similar [as women], then it would be no problem," she says.
While this is a battle American women will have to actively fight for a long time, other countries have developed more passive solutions for pregnant commuters. In the UK, women can request "Baby on Board" badges online to wear on the metro, encouraging others to give up their seats without any awkward exchanges. And the transit system in Busan, South Korea, features a "Pink Light System"; pregnant women can wear a small device that signals priority seating lights to flash when they're in the vicinity.