A Double Rainbow! Watch This Adorable Gender Reveal
This mom wasn't sure she could get pregnant again at all.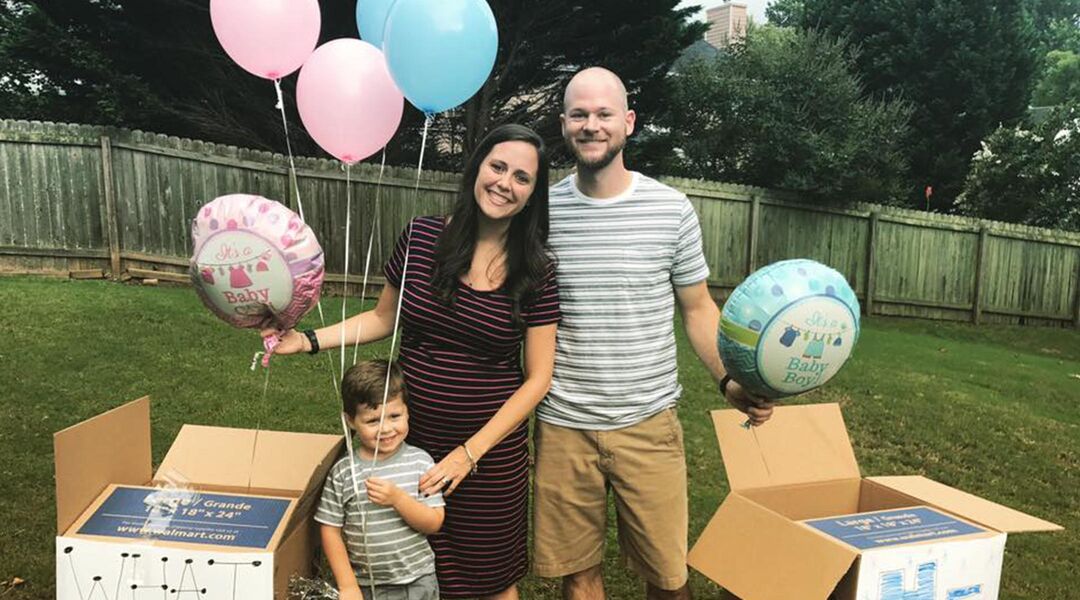 If their gender reveal got people this excited, we can only imagine what the pregnancy announcement was like.
When Kelsie and Patrick Peters gathered friends and family for a gender reveal last month, they had a lot to celebrate. This was their rainbow baby—a baby that followed three miscarriages. With the help of their 3-year-old son, Bennett, they prepared to open a cardboard box labeled "He or She?" full of either pink or blue balloons.
Their guests counted down.
And then Patrick paused them.
(Guests didn't love that; "I was in the middle of an Instagram story!" one man exclaims.)
Patrick ran off to get a second box labeled "What About Me?"
That's right: they're having double rainbow babies.
Here's why this is such a big deal. After her last miscarriage, Kelsie was unable to get pregnant for over a year. She underwent several blood tests to determine she had Factor V, a blood clotting disorder. Essentially, doctors told her that her body wouldn't be able to sustain pregnancies without medical intervention.
She began taking blood thinning medication and soon became pregnant again. When her specialist held up two fingers at her 7-week checkup, Kelsie couldn't have been more excited. The challenge? Keeping that news between her and her husband.
"We decided right away to keep the 'T word a secret until we did a gender reveal," she says on Facebook. "It's too difficult emotionally to tell family we're pregnant just to have to go back and take that joy away from them, all while dealing with our own loss and grief. So during the gender reveal, we had a hidden box ready to be thrown in last minute to completely throw everyone off. Needless to say, it worked!"
Thanks to their family's support—and the support of the 29,000 Facebook users who've liked the video—the Peters are feeling on top of the world.
"My husband has said how 'it feels like the whole world is on our side and everyone's prayers and support is humbling to partake in,'" Kelsie says. "He's right. Our support system and prayer has made this all more bearable."