What a Stranger's Comment About Her Toddler's Tantrum Taught This Mom
One hostile act turned out to be a learning moment.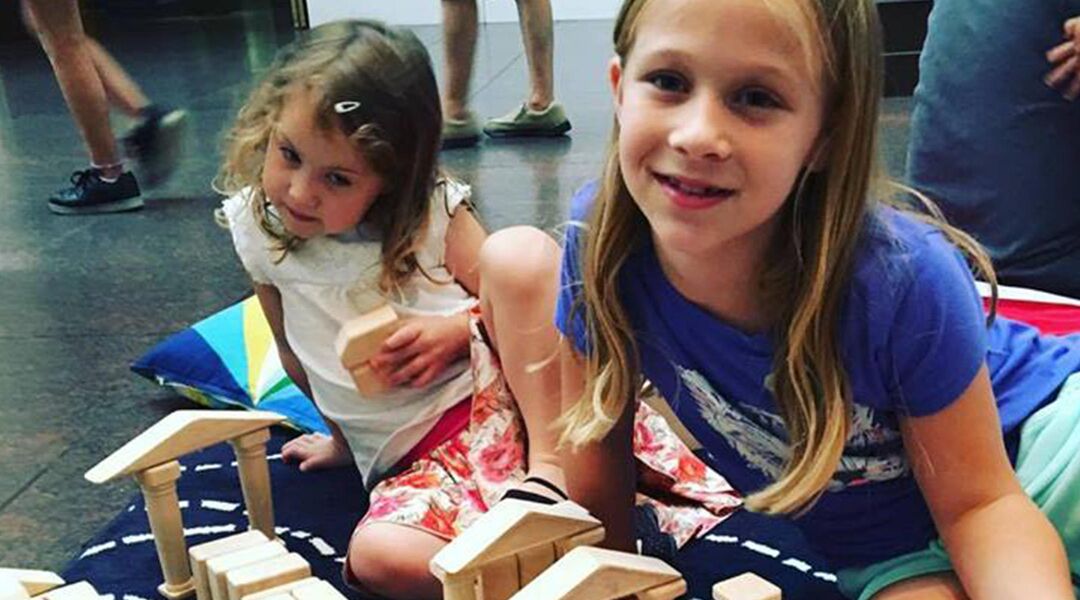 Taking three kids under age 7 out for the day is no easy feat. So Texas mom Molly England was pleasantly surprised when a trip to the Museum of Fine Arts in Houston was going really, really well. Then it happened: her 3-year-old had a meltdown. And one museum-goer's reaction to her toddler's behavior almost led to her own meltdown.
Before we get to the bad, let's go over the good. On Facebook, England explains her kids were totally engaged with the museum's interactive exhibits.
"Their imaginations were running wild, and my heart filled with joy and pride," she says. "I felt like a great mom, like a competent mom able to enrich my kids' lives by exposing them to the arts. I felt proud of their ability to act appropriately in such a demanding atmosphere. An atmosphere that requires them to speak softly, not touch anything and move with grace and awareness—all behaviors they don't do at home."
But England wasn't naive; she knew it was too good to last.
"At 4 pm it was time to go. Family zone was closing, and I knew it was getting close to meltdown time, especially for my 3-year-old who'd skipped her nap," she says. But her eldest wanted to explore the rest of the museum. And since the day was going so well, England appeased her.
"I decided we'd go to the museum cafe for a snack and then continue exploring the museum," she says. "And this is where my blissful mommying moment ended."
England's 3-year-old had a meltdown after dropping half of her dessert on the ground. And England hoped to use it as a teaching moment.
"My 3-year-old refused to use a spoon to eat her lemon tart. Opting to use her unreliable, sticky fingers, she quickly dropped the tart on the floor and sobbed. Not a deep, low, sob, but a shrill sob. Even over the gush of the fountain, her crying pierced the other patrons' ears. I had a choice at this point: with another half a lemon tart on my plate, I could've appeased her and given it to her. But I chose to stand my ground. After all, I'd repeatedly warned her it would fall. The tantrum escalated."
There would be no reasoning with the toddler and ultimately, they had to leave. And an older museum patron made sure to get a comment in as they did.
"Oh, thank God you're leaving," the woman said.
England wasn't ready to let it slide.
"I doubled back, looked into her cold eyes, and then I looked at her friend as she shook her head. I looked back at her and quavered with rage, 'Are you kidding me?!' She simply replied, 'No, I'm glad you're leaving.'"
England says the remark stuck with her for the rest of the day. She wondered how such a magical day could be derailed by something so nasty.
"I grappled with whether our blissful afternoon was real or not. I couldn't reconcile the two experiences. It felt like my posts of our joyful time where a lie now that we'd experienced such upset," she says. "There are no photos with black and white filters capturing this dramatic turn of events. The whole ride back I debated whether or not to erase my posts."
But that's the truth: real-life motherhood looks nothing like Instagram. The posts would stay. And England would use this as a learning experience.
"The hostility from one stranger won't stop me from trying to parent," she says. "I'm not perfect, and that's how I learn. I don't regret addressing the lady because I do think she was out of line. I also think we probably should have left after the Egyptian exhibit when my mom meltdown radar told me we should leave….I may have only shared the good moments in photos and videos, and that's because they were valuable moments that I want to remember. The disapproving stranger will not take that away from me."
Well said, mom. And remember, it's not always bad; sometimes, meltdowns are downright adorable.