Toddler Miraculously Saves Twin Pinned Under Dresser
Their sibling bond was life-saving.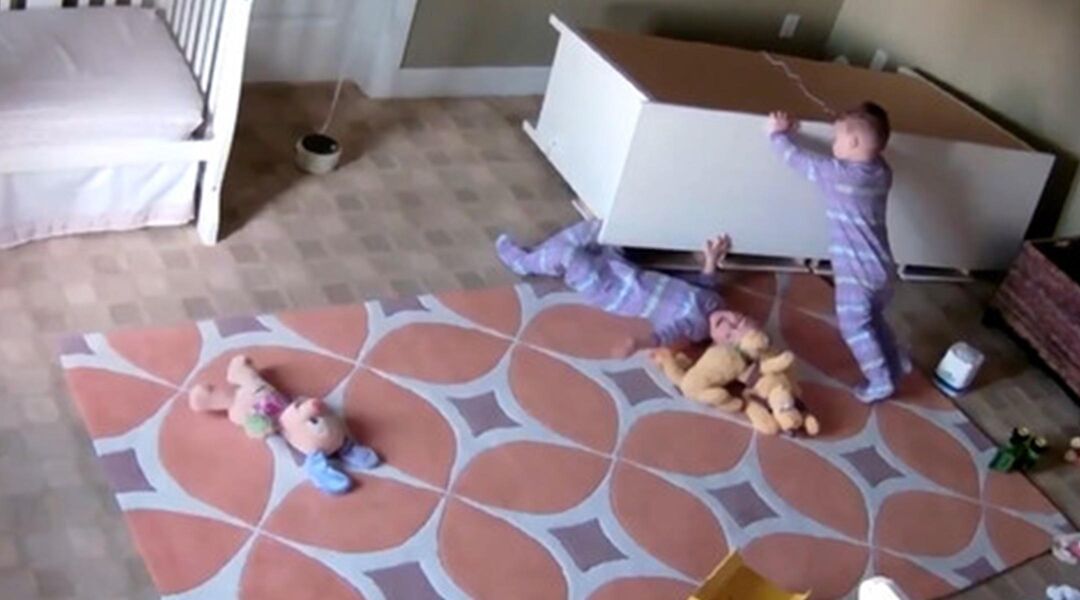 We've all heard stories about superhuman strength in times of crisis—but never before have we seen it executed by someone still in diapers. Two-year-old Bowdy Shoff is being hailed a hero after lifting a tipped dresser off of his twin brother, Brock, who emerged without a scratch.
The entire episode was captured on a baby monitor mounted on the boys' bedroom wall. The Utah brothers—who sleep in toddler beds and are able to get in and out as they please—were playing on their dresser last Thursday morning when it fell over, pinning Brock's head and torso underneath. The piece of furniture wasn't anchored to the wall.
After initially trying—and failing—to lift the dresser, Bowdy climbed to the other side to assess the situation. Circling back around, he stepped back, trying to figure out what to do next. Ultimately, he ended up pushing instead of lifting, creating enough force to lift the dresser up and off of his brother, who rolled out from underneath.
Mom Kayli Shoff says that while she usually hears everything her mischievous boys are doing it, she didn't hear a thud or a cry.
"We woke up and looked at the camera to see if they were still sleeping and saw [the dresser] was down, but they were playing around, so we didn't know if it had landed on them," Shoff tells Salt Lake City station KSL. "Bowdy just came around and assess the situation thinking, 'I needed to help my twin brother. What do I do here?' He tried to lift it at first, then he pushed with all of his might and pushed it off his brother. I really believe in a twin bond. You always hear that and I believe these two have it."
Shoff and her husband, Ricky, were reluctant to share the video (Ricky ultimately did on his Facebook page), but think the dramatic footage will serve as a reminder for parents of young children to anchor any tippable furniture to the wall.
"We just want to spread awareness to this one accident that happened and hope it doesn't happen to any other families," she says. "Everybody needs to bolt your dressers to the wall. We just didn't think about it."
Watch the full video here.