Photographic Evidence That Working Moms Can Breastfeed
Multitasking is a mom-perfected art.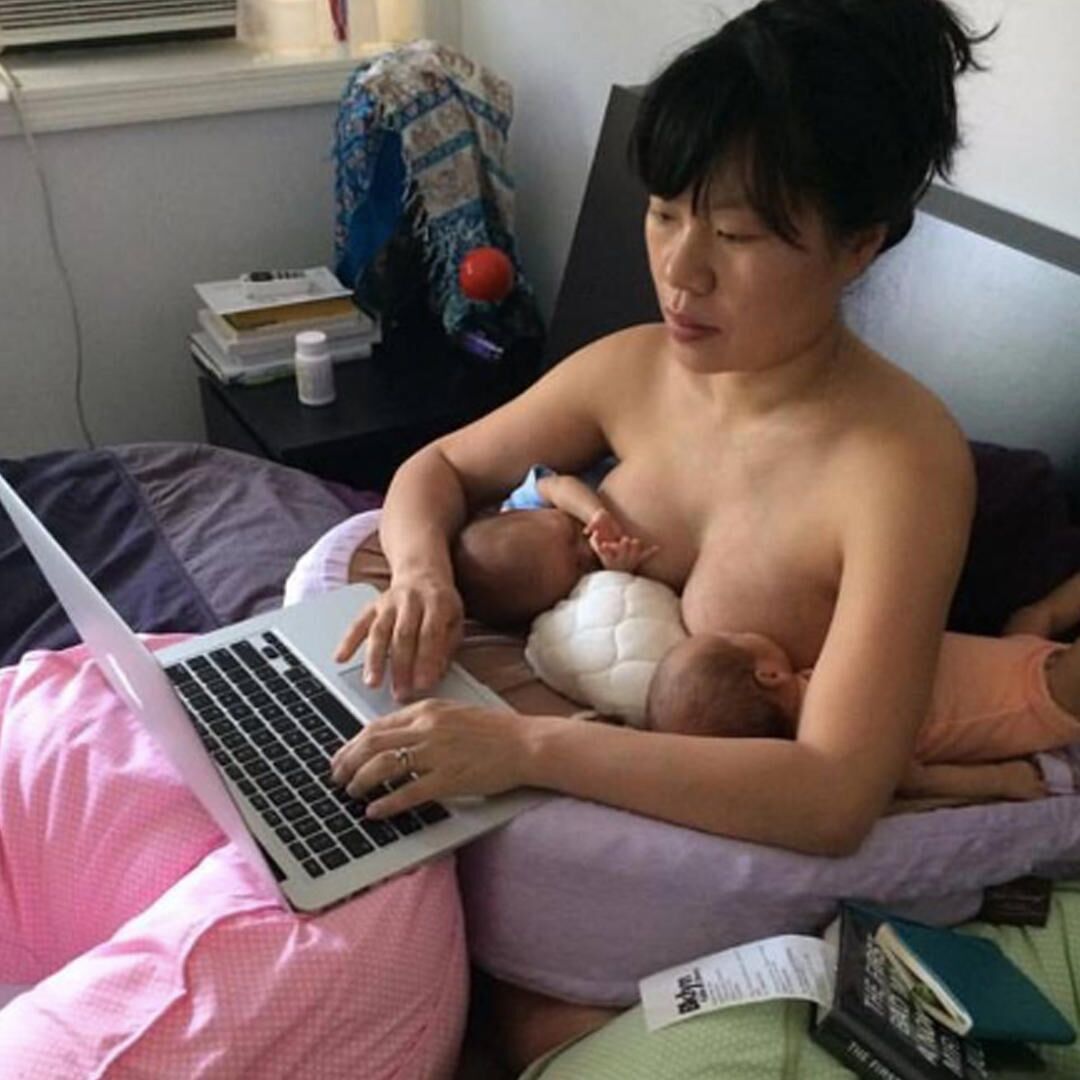 Returning to work can certainly make breastfeeding difficult—in fact, it's the no. 2 reason women in the US stop nursing. But arist Hein Koh is not making any excuses. You could even say she doubled down on breastfeeding while getting back to work.
The New York-based sculptor shared a #tbt photo of herself tandem nursing her then-5-week-old twin girls while working on her laptop.
"Becoming a mom (of twins, no less) has personally helped me become a better artist—I learned to be extremely efficient with my time, prioritize what's important and let go of the rest, and multitask like a champ," she writes in the caption of her Facebook photo. "I learned to function (even if barely) on very little sleep, and out of the chaos, insanity and even torture at times, a flood of new emotions entered into my work, becoming more interesting and layered as a result."
Koh used the throwback photo—her girls are now 17 months—to refute comments made last year by performance artist Marina Abramović, who felt children would hinder her artistic ability: "One only has limited energy in the body, and I would have had to divide it."
"Marina Abramović thinks children hold women back in the art world…but f*ck that," Koh writes. "All Marina knows is her own experience, and it may be true for her, but that is not everyone's experience nor truth."
Koh leaves us with this empowering sentiment:
"Parenting is like any other challenge in life—the biggest f*cking challenge in my own life thus far—and if you embrace it and figure out creative solutions, you can emerge a better person. It's important to think about the ways in which these challenges can help you move forward, rather than hold you back."
More and more moms are looking for creative solutions when it comes to breastfeeding and going back to work. And their success depends on the support of those around them. Today, New York Magazine's Jen Gann penned an op-ed about her experience with pumping not just at work, but right at her desk, something she thinks more women who are comfortable should consider.
"Recently, when my office's designated space was occupied, I pumped in a different room, with just frosted glass between me and passers-by. It was fine," she writes. "Then I started experimenting with pumping in different places—a coworker's semi-private cubicle, and one day, when I was impossibly busy, at my own desk. It seemed scary at first, but I finished everything I had to do, got over my fear, and went home on time. Then I did it again, and again. Now I do it regularly, wearing a cover-up that looks like an adult-size bib. My coworkers don't seem to care."
As this story and Koh's photo highlights, necessity really is the mother of all invention. Perhaps Gann says it best: "In the absence of supportive policies, women have found a zillion different ways to provide food for their babies."