Get The Free Bump Pregnancy and Baby Tracker Mobile App
Real advice from real experts, straight to your phone.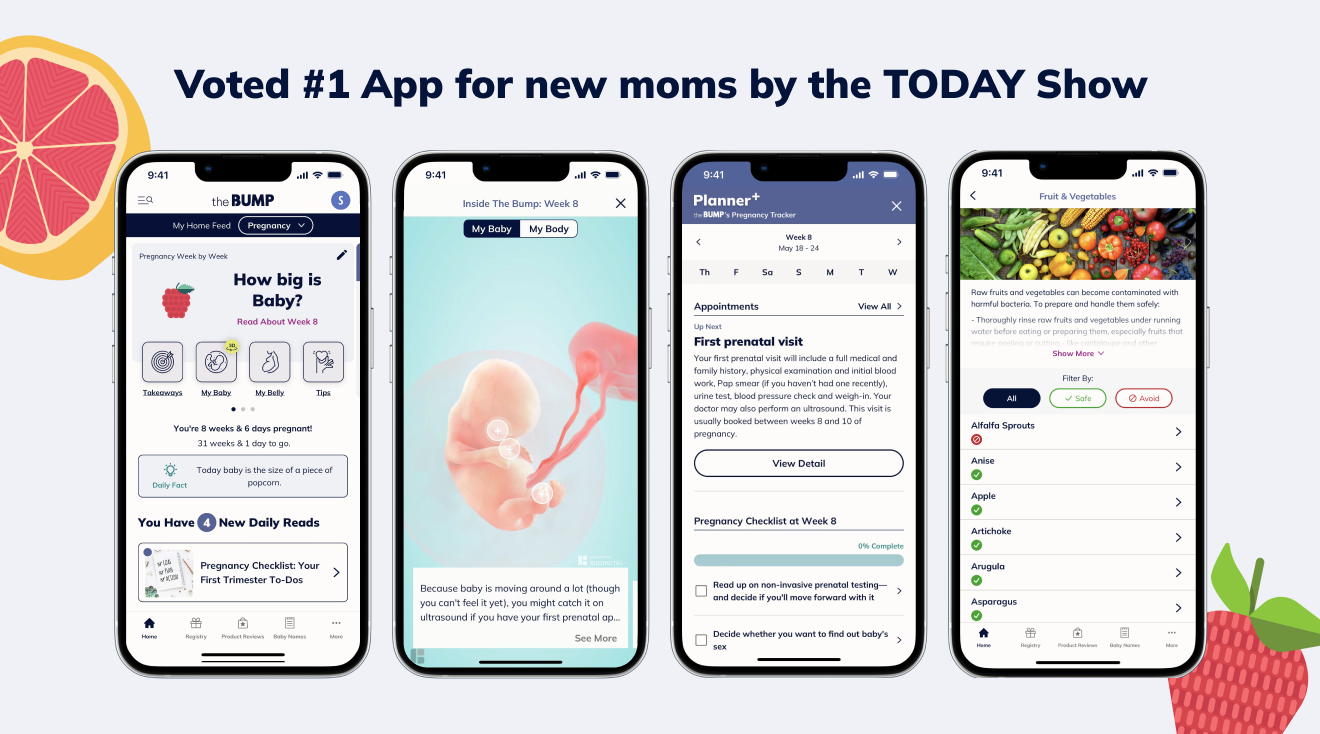 Install the free Bump pregnancy and baby app and get expert information and advice wherever you are.
Leebeeskeebee
Favorite app! Love the new update too!
It's so approachable, comprehensive and educational. Everything is so on point and relevant. You get the cute "fruit" size updates, week by week informational updates on what to expect, daily articles, appointment calendar, weekly checklists. 3D views on what baby looks like and what's developing that week, plus 3D view of what is happening inside your own body as well! I truly love this app for pregnancy and feel very lucky to have found it. I don't feel "lost" or filled with unending questions, instead—I feel as in control as possible during pregnancy! Highly recommend.
As an expecting parent, it's natural to want to stay informed about baby's development and growth throughout your pregnancy. That's where our pregnancy app comes in. Our app is designed to provide you with all of the information you need to know about baby's development and keep you on track throughout your pregnancy journey.
With our app, you can easily track baby's development week by week. Simply provide your due date–or use our due date calculator–and we will generate a personalized timeline of baby's growth and development.
Pregnancy Tracker: The Bump is famously the first tracker to compare baby's growth in utero to beautifully illustrated produce ("Baby Is As Big As a Peach"). Discover comprehensive updates about the changes and developments happening to both baby and your body while you're pregnant, and learn how best to plan ahead.

Pregnancy Videos:

Watch and learn as our experts give you highlights of what to expect each week of your pregnancy.

Inside your Bump:

See an exciting and exclusive 3D interactive visualization of baby's week-by-week growth. Interact and learn new facts about baby like never before with the next step in baby growth trackers.
Baby Names: From name length and style to country of origin and meaning, you'll find the perfect name for baby in one of The Bump's specially curated lists.

Daily Information and Advice:

Every day, the award-winning editorial staff of The Bump delivers fresh and relevant content for your specific week of pregnancy. The articles are timely and comprehensive and provide need to know information about safety standards. Find out how to ward off morning sickness or learn the best things to pack in your hospital bag—these daily reads will help you stay ahead of the curve.
Pregnancy Tools: The Bump's comprehensive suite of tools makes it a versatile and helpful free baby app for you. Stay up to date on both your and baby's progress with invaluable features like the pregnancy countdown tool, baby growth tracker, a due date calculator, a kick counter, a pregnancy weight gain tracker, and a contraction counter to determine when it's time to activate your birth plan. And the Bump's food safety tool provides nutritional guidance and helpful information throughout your pregnancy.
Planner+ Appointment Guides: A feature that equips every expecting parent with important information about their prenatal doctor visits. It suggests questions to ask your doctor and integrates appointments seamlessly with your mobile phone's  calendar.
A Personalized Baby Registry: When it comes to managing multiple registries, the Bump has you covered. The Bump has collected the top registry products across Amazon, Target, Walmart and so much more. And we know parents-to-be register across multiple stores. The Bump will automatically track your registries across each retailer, so you can easily manage what you've registered for, what's been bought and what's still available on your registry.

Pregnancy and Baby Photos:

Document your pregnancy by creating a weekly album of your growing belly. And once baby is born, the album expands to track their first amazing year in the world.
Community Forums: Explore our discussion forums to get support along every step of your pregnancy and parenting journey. Whether you are trying to conceive, exploring fertility options, thinking about adoption, seeking a birth month club, need advice about your newborn or baby, or have questions about raising toddlers, The Bump's discussion forums will provide encouragement, information and support from other parents and parents-to-be.