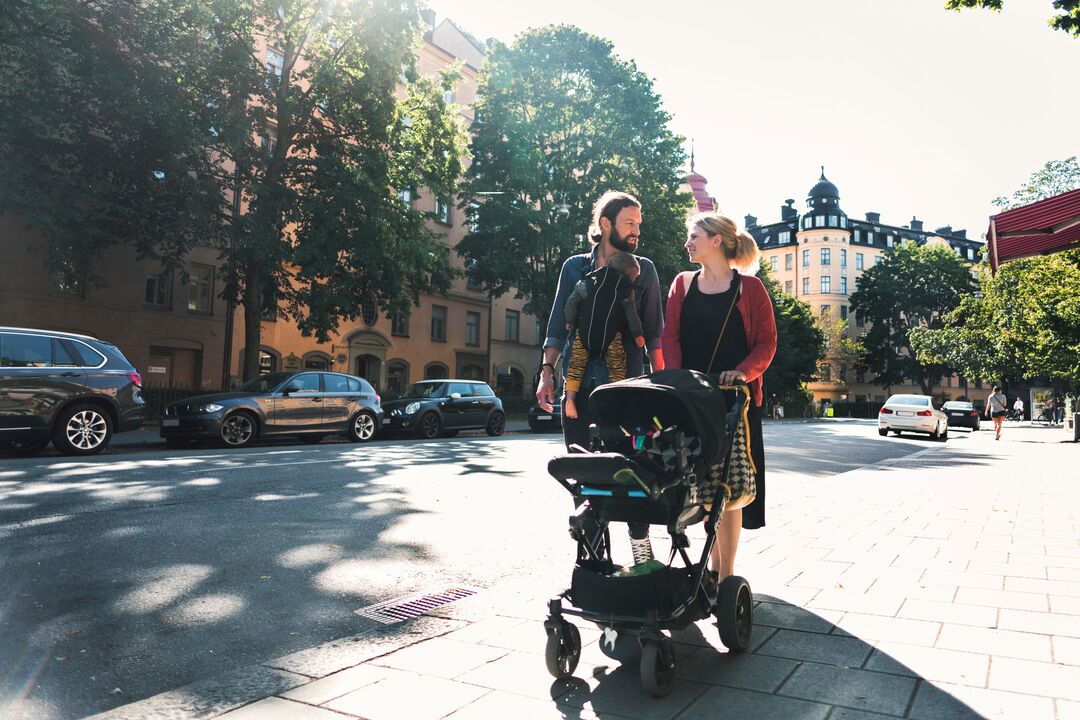 Elizabeth Roehrig
Deputy Editor, The Studio
3 Ways Your Insurance Coverage May Change After Baby
An insurance agent shares must-know tips—and even an unexpected perk.
Christine Yap knows all about how a growing family can affect your insurance: The Phoenix-based Allstate agent and mom of four is currently expecting baby number five, due in June! Once she and her husband had time to absorb the news, they had a few life adjustments to make. "My husband traded in his sports car for an SUV, we had to reevaluate our life insurance, and we decided to build a new house that my parents could move into to help with the kids," she says. Of course, all of these changes can make a big difference when it comes to your insurance coverage. Read on for her must-know tips and advice.
1. Your car insurance might get cheaper.
If you swap that small, sporty model after the baby arrives for a safer vehicle like certain SUVs or minivans, your insurance costs may actually go down. "These models often have better safety ratings, and people tend to drive them a little more safely," Yap says—two factors that can lead to lower premiums. (Pretty sweet, right?) "I tell my clients to call me before buying a new car so I can give them a live quote over the phone to help them make the best decision," she adds. And if you also happen to be moving to a safer neighborhood, that could add up to even more savings on your auto insurance.
2. You may want to add more life insurance. After Yap's first child was born, her husband bought coverage for the two of them and their new baby through his employer. "It wasn't until I became an Allstate agent that I realized that a company policy is a good starting point, but what if he lost his job? We'd lose the coverage," Yap explains. The couple looked into term and permanent life insurance options, ultimately deciding to go with a permanent policy. "We wanted to leave a legacy for our kids," she says. "With permanent life insurance, we're able to do more than just protect our mortgage and income, and leave something for the kids." So what's the difference between the two types?
Term life insurance: These policies can be more affordable, but you're only covered for the set amount and term that you purchase. After the term is up, you may be able to either renew it, buy a new policy or convert it to a permanent policy.
Permanent life insurance: These policies are more expensive but offer—you guessed it— the potential for lifetime coverage, and they can build cash value over time.
And we know it's obviously extremely difficult to think about, but your insurance agent can also advise you about life insurance options for your new addition. Why now? Beyond covering funeral expenses or medical bills if the worst ever happened, it can help you rest easier knowing baby's future is a little more secure. "You can't know if your child will develop a disability or chronic illness later in life, making it difficult—if not impossible—to get life insurance when he or she needs it," Yap says. She notes that buying a policy now can actually save money in the long-term, since premiums are lower for children than adults.
3. You may want to consider coverage for the unexpected.
While you're busy thinking about the future, now's also a good time to assess whether supplemental policies, like disability or long-term care insurance, are right for you. There are a lot of misconceptions about these two types in particular. "If you lose the ability to go to work, government aid won't replace your income," Yap says. "And a lot of people think that Medicare will cover long-term care costs, but you first have to liquidate all of your assets to qualify." Allstate partners with experienced financial specialists who can talk through these options with you in detail. (The specialists are also available to help with 401(k) rollovers and set up IRAs or 529 college savings plans—and their advice is always free of charge.)
The Bump and Allstate teamed up to present Take It From Me , a sponsored series featuring life lessons that new moms and dads learned from past generations, plus valuable advice to help you prepare for the future. To find a local Allstate agent who can advise you as you make big life changes, visit Allstate.com.
Photo: Gallery Stock