7 Toddler-Approved Eats—Just in Time for Thanksgiving!
The chef extraordinaire of food blog Weelicious shares a few of her favorite kid-friendly recipes.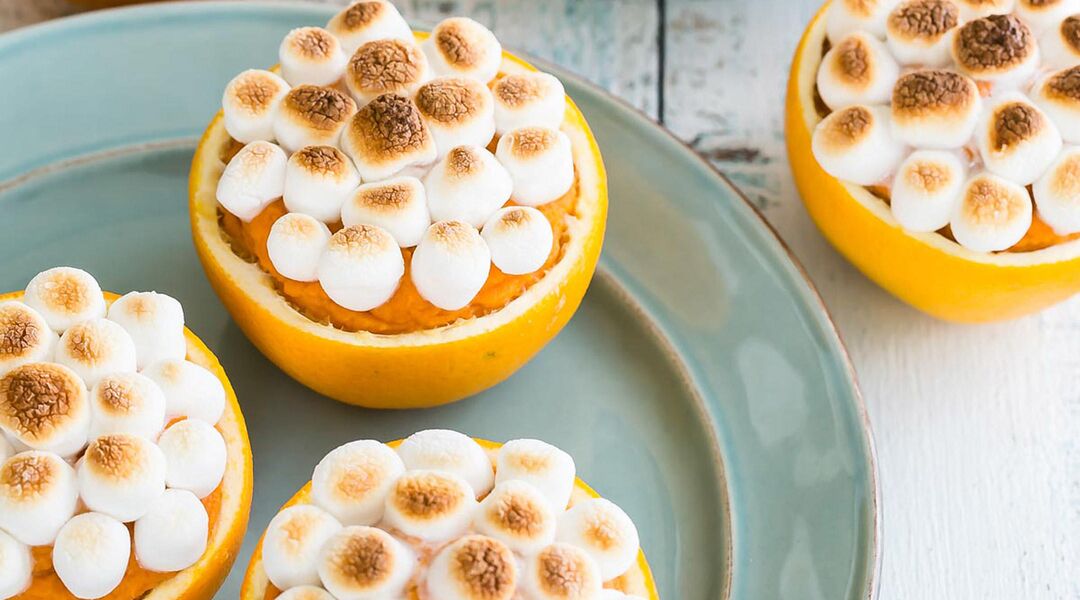 Of all the American holidays, Thanksgiving is a perennial favorite—and with your loved ones around a table laden with treats, what's not to be thankful for? But creating a delectable feast the whole family will enjoy is sometimes easier said than done.
"Thanksgiving can take a lot of time to prepare, as there are so many components to the 'perfect' holiday meal," says Catherine McCord, founder of Weelicious, a food blog dedicated to helping parents create wholesome, delicious, kid-friendly food. And of course, what's considered "perfect" for your adult diners won't necessarily work for your toddler. Her secret to coming up with holiday dishes even the littlest—and pickiest—of eaters will love? "I try to make sure the food I make is fun," McCord says. "Whether it's the way you eat the food, the color, texture or taste, I like to make sure there's a certain playful factor about it."
To help inspire your Thanksgiving menu this year, McCord gathered up seven of her favorite recipes fit to please kids and adults alike, and complete your holiday with a table full of fun.
Apple Sausage Stuffing Bites
What's a Thanksgiving meal without the stuffing? These pint-size stuffing bites are just right for little fingers. They may be small, but they go big on flavor, combining traditional stuffing ingredients like celery and onion with two perennial kid favorites: apples and chicken apple sausage.
Ingredients
(Makes 12 pieces)
1/2 baguette cut into ½-inch cubes, about 4 cups
1 teaspoon oil
2 sweet apple sausage links, cooked and chopped, about 1 cup
1 medium apple, chopped (gala, fuji or golden delicious)
1 small yellow onion, diced, about 1 cup
2 celery stalks, diced, about 3/4 cup
1 teaspoon minced fresh thyme
1/2 teaspoon salt
1 cup low-sodium chicken stock
2 large eggs, beaten
Instructions
Preheat oven to 300 F.
Toast the bread cubes for eight to ten minutes to dry them out (or use day-old bread that's already dried out).
Increase oven temperature to 350 F.
Heat oil in a sauté pan. Add the sausage, apples, onions and celery, and sauté for five to seven minutes, until everything is heated through and the veggies are tender. Allow to cool a few minutes before continuing.
Place sausage mixture along with the remaining ingredients in a large bowl and toss to thoroughly combine.
Spoon the stuffing mixture into greased muffin tins, filling all the way to the top. Pat the mixture down to pack it well.
Bake for 45 minutes.
Cheesy Turkey Meatloaf Bites
A gorgeous roasted bird will make the adults at your holiday table melt with anticipation, but for the little ones, turkey meatloaf is a fun twist on this Thanksgiving staple. They'll love these cheesy bites—and never suspect they're eating veggies too. The best part? The dish takes only take 20 minutes to make!
Ingredients
(Makes 24 pieces)
1 zucchini, chopped
1/2 cup onion, chopped
1/2 cup red bell pepper, chopped
1/2 cup baby carrots (about 8), chopped
1 garlic clove
1 large egg
1 tablespoon Worcestershire sauce
1 teaspoon Italian herbs
1/2 cup bread crumbs (whole wheat, preferably)
1/2 cup cheddar cheese, white or orange, shredded
1 pound ground turkey (93 percent lean ground meat)
Instructions
Preheat the oven to 375 F.
Spray a nonstick mini muffin tin with vegetable oil.
Place the zucchini, onions, bell peppers, carrots and garlic clove into the food processor and pulse until everything is in tiny pieces.
Add the egg, Worcestershire sauce, herbs, bread crumbs, cheese and turkey. Pulse until everything is combined.
Place about a tablespoon of the meatloaf mixture in each muffin-tin compartment and pack down with a spoon.
Bake until the mini turkey loaves are cooked through or an instant-read thermometer inserted into the center registers 165 F, about 20 minutes.
Vegan Whipped Coconut Sweet Potatoes
These sweet potatoes are sure to be a hit with guests of all ages. Coconut milk makes them creamy and fluffy, a hint of maple syrup boosts the sweetness and a dash of cinnamon lends holiday flair.
Ingredients
(Makes 4 servings)
2 large sweet potatoes
1/2 cup coconut milk, warmed
1 tablespoon maple syrup
1/4 teaspoon ground cinnamon
1/4 teaspoon salt
unsweetened coconut flakes, optional
Instructions
Preheat oven to 400 F.
Poke holes in the sweet potatoes and place on a foil-lined baking sheet. Bake for one hour or until fork tender. Cool slightly.
Peel the skin off the sweet potatoes. It will easily peel off using your fingertips.
Place the sweet potato pulp, coconut milk, syrup, cinnamon and salt in a bowl and beat with an electric mixer, or in the bowl of a stand mixer, until thoroughly combined and fluffy.
Sprinkle with coconut flakes, if desired.
Cranberry Apple Chutney
Every Thanksgiving plate calls for that dash of cranberry red—and kids have known to go crazy for McCord's cranberry apple chutney. In fact, her son once tried to eat a whole jar of it when she wasn't looking. The grated apples gives extra texture and the cinnamon adds a kick of flavor.
Ingredients
(Makes 3 cups)
1 tablespoon vegetable or canola oil
1 small onion, diced
2 celery stalks, diced
12 ounce bag of fresh cranberries
1 green apple, peeled and diced
1 cup brown sugar
1 cinnamon Stick
Instructions
Heat 1 tablespoon of oil in a saucepan over medium heat and cook the onions and celery for five minutes or until tender.
Add the remaining ingredients, stir, cover and simmer for 25 minutes, stirring occasionally while cooking.
Let cool and serve.
Tiny Corn Muffins
These mini muffins are a healthy, toddler-friendly spin on the classic cornbread—a go-to accompaniment to any hearty Thanksgiving meal. They're cute, crunchy and delectably sweet, thanks to the touch of agave in place of white sugar.
Ingredients
(Makes 24 muffins)
1 3/4 cup cornmeal
3/4 cup flour
1 tablespoon baking powder
1 teaspoon baking soda
1/2 teaspoon salt
1/4 cup honey or agave
1 1/2 cup buttermilk
2 large eggs
1/4 cup vegetable oil
Instructions
Preheat oven to 425 F.
Mix the first five dry ingredients in a bowl.
Whisk the remaining wet ingredients in a separate bowl until thoroughly combined.
Pour the cornmeal mixture into the wet ingredients and thoroughly combine with a whisk.
Grease a 24-cup mini-muffin tin. Pour mixture into each cup.
Bake for 15 minutes or until a toothpick comes out clean when inserted inside.
Let cool and serve.
Sweet Potatoes in Orange Cups
Looking for another take on sweet potatoes? "These sweet potatoes in orange cups are one of the most kid- and adult-friendly holiday sides you can make!" McCord says. When she hosted a kid dinner party and pulled these beauties out, the little ones were convinced they were cupcakes—and it's easy to see why. These tasty treats will park up your holiday table (and the tastebuds of kids and adults alike).
Ingredients
(Makes 6 servings)
2 pounds sweet potatoes (you want to use potatoes that are really orange—also known as yams)
2 tablespoons butter
1 tablespoon brown sugar or maple syrup
1/2 cup evaporated milk
1/2 teaspoon kosher or sea salt
3 navel oranges
Mini marshmallows
Instructions
Preheat oven to 400 F. Poke the yams several times with a fork or knife to pierce the skin.
Place on foil or a sheet tray in the oven and bake for one hour.
Let yams cool for several minutes, cut in half and scoop out the fluffy insides.
Mash the yams with butter, sweetener, evaporated milk and salt until creamy and fluffy.
Cut the oranges in half and slice a very thin disk from the bottom so they rest flat. The skins are actually going to be the "bowls."
With a paring knife, cut around the inside rim of the orange, removing the orange sections and pulp. Reserve the orange juice and pulp in a bowl to enjoy as a snack later or to use in another recipe. Discard the white membranes and seeds.
Fill each orange cup with 1/4 cup of puree and top with several mini marshmallows (you can cover and refrigerate these overnight).
Preheat oven to 350 F.
Place on a sheet tray and bake for 20 to 25 minutes.
Let cool and serve.
Pumpkin Waffles
After a delicious Thanksgiving dinner, there's no better way to start your family's day the next morning than with these pumpkin waffles. They're fluffy on the inside, crispy on the outside and filled with fall spices. You can even build a yummy cream cheese or turkey-and-cranberry-chutney sandwich with them for lunch.
Ingredients
(Makes 12 4-inch waffles)
2 1/2 cups all purpose flour
1/3 cup light brown sugar
2 1/2 teaspoons baking powder
1 teaspoon baking soda
1/2 teaspoon salt
2 teaspoons ground cinnamon
1 teaspoon ground ginger
4 large eggs
2 cups buttermilk
1 cup pumpkin puree
6 tablespoons melted butter
Instructions
Preheat waffle iron.
Sift first seven ingredients into a bowl.
In a separate bowl, whisk the remaining ingredients.
Whisk the dry ingredients into the liquid mixture and whisk until smooth.
Pour about 1/2 cup of the pumpkin batter into a waffle iron that's been buttered or greased, and cook according to manufacturer's directions.
Serve with maple syrup or make into sandwiches filling with cream cheese and whatever other fillings you desire.
Published October 2017
Please note: The Bump and the materials and information it contains are not intended to, and do not constitute, medical or other health advice or diagnosis and should not be used as such. You should always consult with a qualified physician or health professional about your specific circumstances.
Was this article helpful?
Your Child's Age
Select your child's age in months to begin tracking their development.