Celebs & Bumpies Unite at the Biggest Baby Shower Ever
What do The Bump, Jessica Alba, Ali Landry, The Guncles, and over 400 expectant parents have in common? We all attended the Biggest Baby Shower Ever with Big City Moms last night at The Skirball Center in Los Angeles! Bumpies sipped mocktails, mingled with their fave mom celebs, tried out the newest baby gear, and enjoyed educational seminars from industry experts.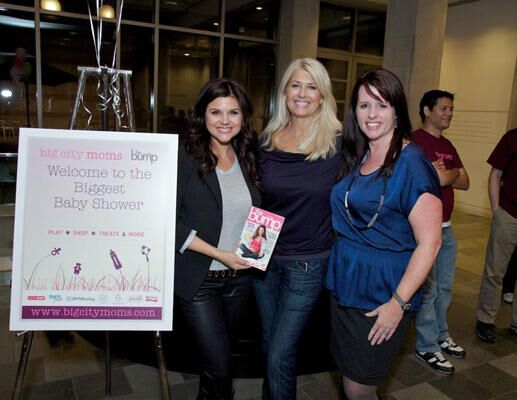 The Honest Company
Actresses Jessica Alba and Christopher Gavigan, founders of The Honest Company, pose at the shower.
Jessica Power
Jessica Alba and Jessica Capshaw (of Grey's Anatomy) share their Bumpie secrets.
Petit Nest
Actress Tiffani Thiessen and designer Lonni Paul (creators of PetitNest) pose with The Bump Site Director, Shannon Guyton.
Guncles
Bill Horn and Scout Masterson (aka The Guncles from Tori & Dean: Home Sweet Hollywood) share with moms their picks for must have baby products.
Hanging with Ali Landry
Actress Ali Landry and founder of Spokesmoms.com poses with The Bump Site Director Shannon Guyton.
Our LA Bump Staff
We love babies and meeting our moms-to-be!
Holy Swag Bag
Bumpies received gifts galore!
Image: Matt Cramer Photography
Taking Notes
Actress Soleil Moon Frye and her The Little Seed business partner Paige Goldberg compare notes with The Bump Site Director Shannon Guyton on whether their babies' names made it in the _The Bump _magazine.
Real Celeb Bumpie
Actress (and Bumpie!) Jessica Capshaw (of Grey's Anatomy) pose with Big City Moms (and sisters!), Risa Goldberg and Leslie Venokur.
Yummy
Bumpies enjoyed yummy snacks (pregnant mamas love sliders!) and mocktails.
Watermelon!
This Bumpie's baby is as big as a watermelon!
Image: Shannon Guyton
Pink Tent
Check out the fun atmosphere!
Was this article helpful?