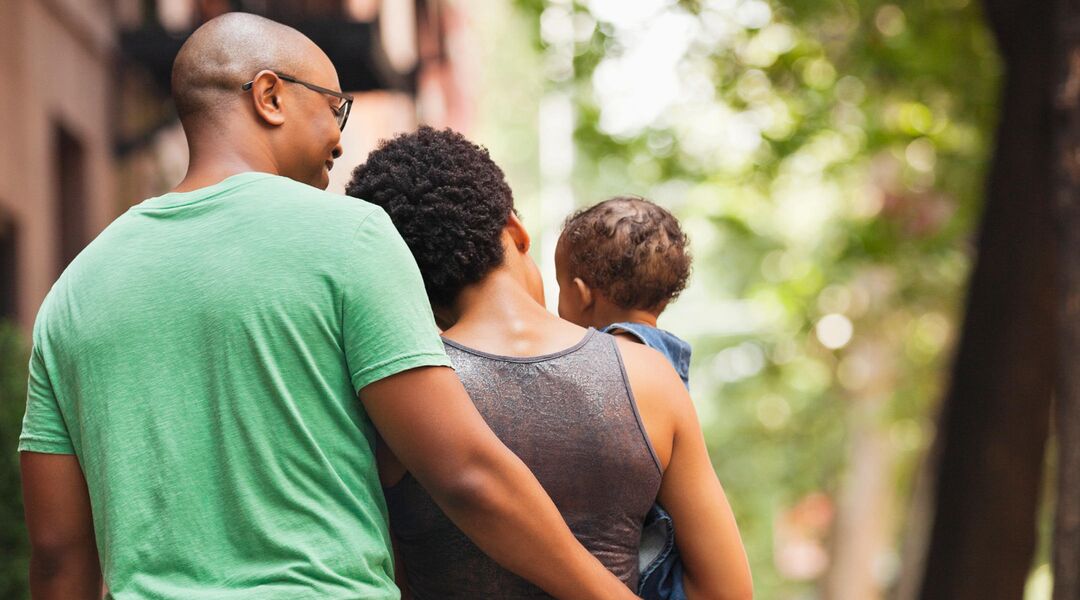 Kristin Fuerst
How to Survive Your First Outing With Baby
When you're finally ready to take baby out on the town, here's how to make sure the day goes off without a hitch.
In a dream world…
You actually took a shower, put on real clothes and are ready to roll! Your emancipation from days (and days) spent stuck in the house is only made sweeter by the fact that baby is bringing her A game, sitting quietly in her car seat, nodding off just in time for you to eat lunch at your favorite café in peace—even saving her blowout till you make it home. Latte stop? Don't mind if you do!
In reality…
By the time you change her and pack the diaper bag with everything she'll need for your outing, she's wet again. You've barely brushed your hair and managed to put on presentable (i.e., free of spit-up) sweatpants so you can finally pull out of the driveway, only to realize that you need to turn back around in half an hour (or find a free janitorial closet) to breastfeed—a reality she makes you perfectly aware of by screaming her head off as you drive down the street…sweating…with your heart beating out of your chest. And all you wanted to do was make a quick trip to the post office.
Make this milestone easier
Schedule wisely
News flash: The days of cramming in an appointment, a trip to the bank and a pit stop at the grocery store inside of an hour are long gone. Be realistic about what you can achieve, and factor in time for things like feedings, buckling in baby and stowing his carriage and, well, who knows what. And certainly think twice about making your very first outing with baby a day when you'll catch up on all of those lingering errands. Don't be a hero.
Think ahead
The amount you'd pay someone for a diaper when you forgot to restock your bag and baby just delivered the king of all number twos? Let's just say it's a lot. To avoid getting caught away from home base without essentials, toss an "emergency kit" in the car that contains spares, like an extra outfit and, of course, plenty of diapers. Remember, heat can dry out wipes and degrade lotions, so refresh your kit as needed.
Play defense
Taking baby out in public is apparently an engraved invitation for perfect strangers to reach into her stroller and pinch her cheeks like they're shopping for fresh produce. To keep her healthy, don't hesitate to ask people to keep their hands to themselves (blame it on doctor's orders, if that makes it easier). In her first few weeks, avoid crowded places, like malls or stores during their peak hours. Hey, it's a germ-fighter and time-saver!
Mom-tested helpers
Because we know how strapped you are for time, we rounded up sanity-saving products from Walmart that'll help you and baby breeze through this milestone. Instead of heading to a million different stores, you can make one stop for everything your family needs—even groceries. Looking for a bigger time saver? Order these items online while baby's napping and have them shipped direct, or do a same-day pickup at your local store later.
1. BabyBjorn Baby Carrier Original
Kangaroos have it right—wearing your baby has a lot of advantages, like not having to pick up dropped keys with your foot anymore. Even better? The fact that this carrier's design doesn't require you to play a personal game of Twister to get it on and off.
2. iPack Diaper Bag, Chevron
If you're going to be a pack mule, this is one stylish way to go about it. It's not just roomy but also smartly designed, with clever pockets—an insulated one for a bottle and two more for your cell phone and tablet—to keep important electronics safely at hand.
3. Leachco Duo Nursing Infinity Scarf
If making milk is your superpower, then this is your heroic costume—wrap it around your neck as a goes-with-everything accessory, then unfold it to convert it into a cape, drape or cover to discreetly feed baby anywhere, anytime.
4. Urbini Omni Plus Travel System
Transfer your sleeping infant from your ride to his ride (and back again) without taking him out of his car seat. Bonus: The stroller can also be used solo and the reversible seat can be positioned to be rear- or forward-facing to grow with him.
5. Philips AVENT Classic Bottles, 4oz or 9oz
The special valve built into the nipples of these bottles prevents air from making its way into your child's tummy. Read: Less uncomfortable burping for baby, less time trying to produce said burbs for you.
The Bump teamed up with Walmart to bring you Real-Life Milestone Moments, a sponsored series full of solutions for the big, sometimes bumpy, journey through parenthood. With sanity-saving products and services like same-day pickup and stores open 24/7, Walmart is all about making life easier for new moms.
Photo: Sam Edwards / Getty Images