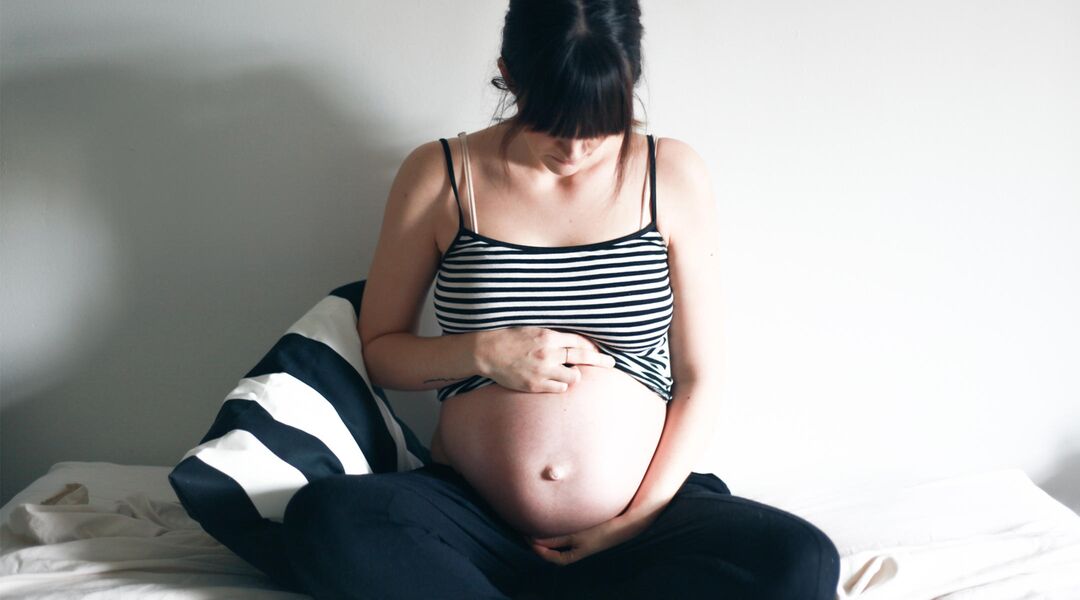 Cassie Kreitner
Senior Editor
Your Guide to Glowing Skin: a Pregnancy-Safe Skin Routine
Keep skin changes in check with these smart tips.
For all the body changes that come with pregnancy, some are exciting (no periods, weird cravings and an increased libido, for starters)—others, not so much. And while many of these occur on the inside, extra blood flow and surging hormones can also bring these changes to the skin's surface, causing issues from stretch marks to dry, irritated skin. Before you reach for your go-to skin care products, take a look at the label. Since what goes on your skin can travel into your bloodstream and into baby, you'll want to avoid potentially harmful chemical ingredients like retinoids (or any type of vitamin A), tetracycline, topical salicylic acids and benzoyl peroxides. Below, check out our tips for safely treating a few common pregnancy-related skin issues, including products from Mustela's maternity skin care line that are free of parabens, phthalates, phenoxyethanol, alcohol and other harsh chemicals.
Pregnancy Problem: Dry and itchy skin
Your body's working overtime to make sure you and baby both get plenty of nutrients. Since baby needs lots of fluids to develop properly, this can divert moisture away from your skin. That means that the so-called "pregnancy glow" isn't always a given, but you can help it along.
The Fix:
Start with what you put into your body: Drink plenty of water (at least eight 8-ounce glasses daily is recommended) and steer clear of high-sodium foods. On the outside, a good moisturizer is key. Apply a nongreasy lotion like Mustela Soothing Moisturizing Balm twice a day to help keep your skin soft and hydrated. Your skin can be more prone to irritation during pregnancy, and a product with natural ingredients, like the avocado peptides found in this balm, can reduce the likelihood of an adverse reaction. As a bonus, it can even help relieve the annoying itchy sensation that tends to happen as your skin stretches over your growing belly. (Just remember: Itchiness is normal and expected, but let your doctor know if a rash appears—this can be a sign of a more serious pregnancy condition.)
Pregnancy Problem: Bigger, sore boobs
Breast discomfort is often one of the first early pregnancy signs women experience, and though it tends to fade after the first trimester, it can last throughout your pregnancy—and even after baby arrives. That's because your boobs will likely grow several cup sizes as they expand to produce milk and prepare for breastfeeding.
The Fix:
By the second trimester, bra shopping is on the to-do list of many moms-to-be. Get professionally fitted and look for maternity or nursing bras specifically designed to support your chest and back. To deal with the feelings of tightness as your boobs grow, try massaging Mustela Bust Firming Serum onto your breasts during your morning and evening skin routine. The serum also contains ingredients that can help firm the skin and increase elasticity—aka, battle dreaded sagging.
Pregnancy Problem: Stretch marks
You'll experience rapid growth during pregnancy, particularly during the second and third trimesters, which causes your skin to expand. Many women notice clusters of stretch marks that appear on their boobs, belly, thighs, hips and butt.
The Fix:
The bad news is that stretch marks are typically genetic, and there's not much you can do to soften their appearance once you have them. The good news? Keeping your skin hydrated and moisturized throughout your pregnancy may help it better withstand the stretching and tightness. Look for a product that aims to improve elasticity, like Mustela Stretch Marks Prevention Cream or Stretch Marks Prevention Oil. Both contain natural ingredients meant to leave your skin feeling more supple and comfortable.
The Bump and Mustela present Healthy Skin Solutions, a sponsored series full of tips and products to suit every skin type. Visit Mustela to learn more about the latest skincare for mom and baby.
Photo: Treasures & Travels