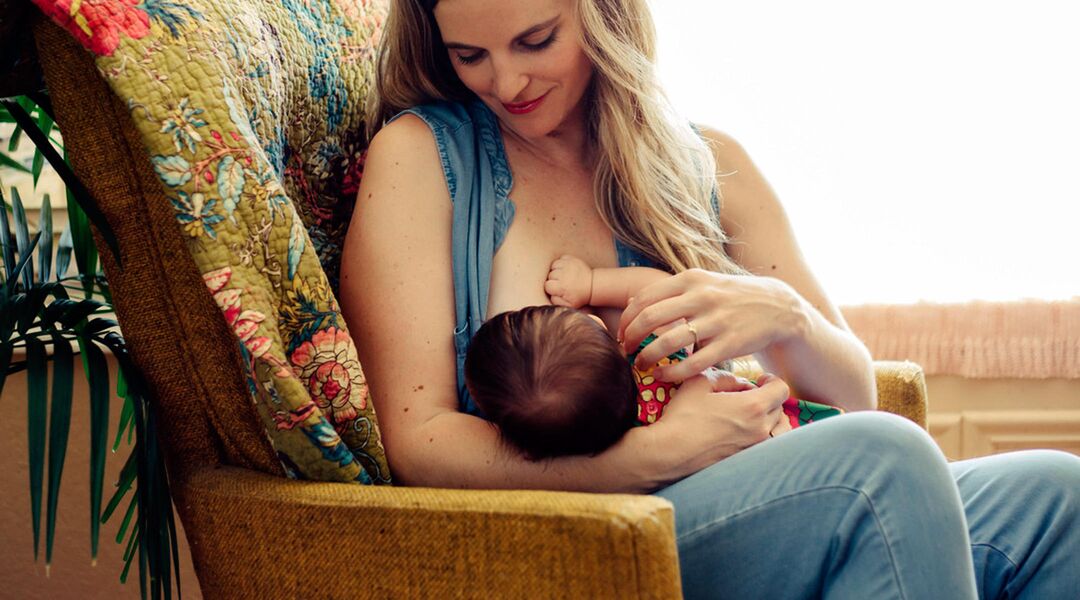 Kristin Fuerst
Breastfeeding for the First Time: What It's Really Like
Think breastfeeding should be the easiest, most natural process in the world? Think again! Getting the hang of things can take time, but these pro tips and mom-tested products can go a long way to help.
In a dream world…
You sit down in the beautiful glider you carefully chose for this special moment and nestle baby to your breast. She latches on in the most familiar of ways and doesn't stop nursing until she's plenty full and drifting off into a satisfied milk coma. You stare down at her, stroke her hair and marvel at just how amazing this bond is while you savor the memory.
In reality…
You flip between moments of desperately trying to lure baby to your nipple and working to keep her awake once she finally decides to come in for a landing. Somewhere along the way, you managed to soak her onesie—and your lap—with precious leaked milk (aka liquid gold). As you try to block out the fact that this feeding frustration will begin all over again in two hours and counting, you wonder how a toothless little human could bite like a barracuda.
Make this milestone easier
Send a signal that it's feeding time
Bring baby to your chest and rub your nipple against her lower lip to send him the message that he should start to eat. Nurse until your breast feels empty, then offer him your other breast. If he won't latch for long, switch sides—back and forth—until he's through.
Keep baby's attention
If she nods off while you're breastfeeding, try stripping her down to her diaper, tickling her feet or stroking her legs to keep her alert and focused on the task at hand.
Have patience—with baby and yourself
This is new for both of you and it can take time to find a rhythm. Practice makes perfect so keep at it, and if over time you still feel like the process isn't going well or you're worried baby isn't getting enough milk, consider seeking the advice of a lactation consultant. In fact, it's a great idea to look for one before baby arrives so you'll have her info ready should you need it. And remember: Getting help is totally normal and not something to be ashamed about!
Mom-tested helpers
Because we know how strapped for time you are, we rounded up sanity-saving products from Walmart that'll help you and baby breeze through this milestone. Instead of heading to a million different stores, you can make one stop for everything your family needs—even groceries. Looking for a bigger time saver? Order these items online while baby's napping and have them shipped direct, or do a same-day pickup at your local store later.
2. Lansinoh Breastmilk Storage Bags
These presterilized, BPA-free bags have a double-zipper closure, a built-in pour spout and they even stand up on their own for easier, mess-free filling. You know what that means? No more crying over spilled milk (literally!).
3. Boppy Nursing Pillow and Positioner
Save your arm (and your back) with this U-shaped wonder, which lifts baby into the perfect nursing position. Bonus: You can use the pillow later on to prop her up, practice tummy time and teach her how to sit.
5. Lansinoh Disposable Nursing Pads
Go ahead—dare to wear your favorite silky top again. Leaky breasts are no match for these ultra-slim, highly absorbent shields. And with a contoured shape and nonslip adhesive you can wear them under everything from your comfiest tees to your slinkiest date night outfit (you know, for when you can actually can go on dates again!).
The Bump teamed up with Walmart to bring you Real-Life Milestone Moments, a sponsored series full of solutions for the big, sometimes bumpy, journey through parenthood. With sanity-saving products and services like same-day pickup and stores open 24/7, Walmart is all about making life easier for new moms.
Photo: Getty Images