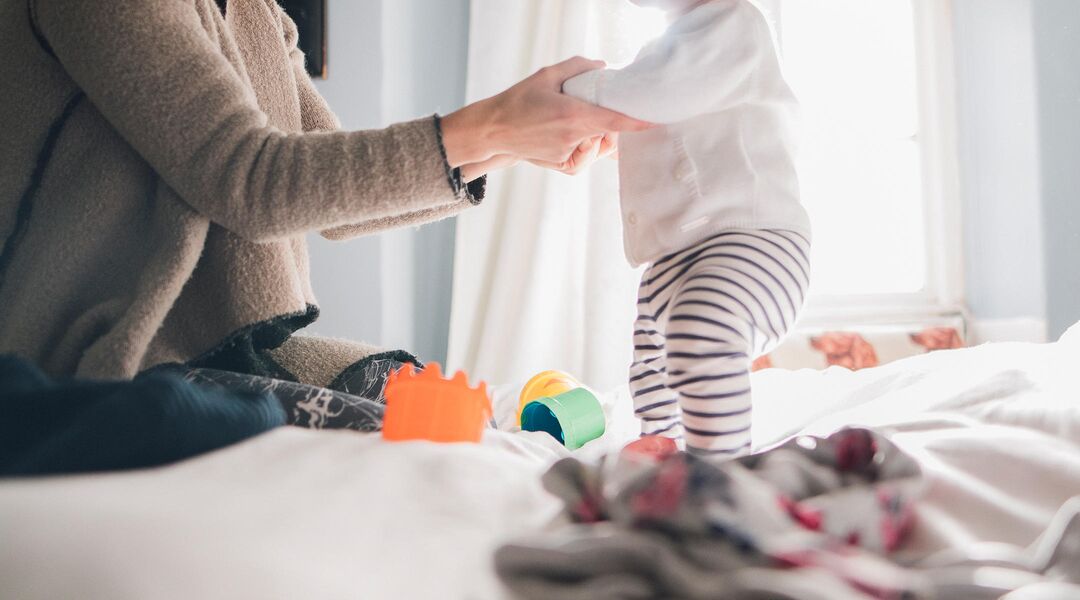 Melissa Walker
Two Families Reveal How They Saved for Their First Homes—and How You Can Too
Get real-life budgeting tips from homeowners who've made it happen.
No one ever said saving up for a home was easy—and it can be even harder when you're living on a single-parent income or have a new baby to care for. (After all, as any parent knows, even the basics like childcare, clothing, diapers and food can take a giant bite out of your monthly budget.) But for many, the struggle is well worth the payoff: more room to grow, more stability and an investment in your family's future.
If you're dreaming of owning a home but feel like it's out of reach, get ready to be inspired. As these two families prove, with smart planning, perseverance and a loan that allows you to put as little as 3 percent down, it's possible to buy a home of your own. Read on to find out how they achieved their goal—and what you can learn from them.
When Connie Gomez and Rafael Castellanos got married, they planned on renting an apartment together. The rent would have been easily affordable on their salaries—she's a dental assistant and he works in construction—but both sets of their parents stepped in and advised the northern California couple to consider another plan: Move in with Gomez's family and save up what they would have paid in rent. "My father-in-law said to us, 'I won't charge you, and in two years, you guys can buy your own house,'" Castellanos says. "That's how it all started." The idea of owning a home inspired Castellanos, who used all the money he'd been saving to help Gomez pay off her car and a student loan. "I wanted us to be debt-free so that when we bought a house, the only big payment we'd have would be the mortgage," he says.
Saving for the Future
After paying off those debts, the couple had to start saving again from scratch. For the first couple of months, Castellanos admits they were "wasting money" by going out with friends and eating at restaurants. So they sat down and talked about their finances together. "We thought, 'OK, we keep doing this for the next five years and then what? We have nothing saved and no way to buy a home.'" They turned to their parents again and got more good advice—namely, to start acting like they already had a mortgage. Castellanos knew others with modest houses in the area who had mortgages in a certain monthly payment range, and they put that amount into their savings account each month. When a tax refund came, Gomez and Castellanos each allocated $100 to spend for fun and put the rest into savings. It helped that both partners were so goal-oriented. "We stayed home and did things as a couple that didn't cost a lot," says Castellanos, like cooking dinners together or watching movies on TV in the evenings. He admits there were times when they were tempted to go out with friends, and there were months when they didn't meet their savings goal, but they tried to make up any shortage the next month. "We understood the common goal and supported each other to reach it," he says.
Putting Plans Into Action
In late 2016, the couple had a baby girl, and while their new addition changed their spending habits a bit, they continued to try to put away their "mortgage payment" every month. "We got what the baby needed, but we didn't buy any extra things," Castellanos says. Their focus paid off and when their daughter was a few months old, the family was ready to begin the house hunt. They met with a real estate agent and told her they wanted to look at houses in a price range they'd determined would make it possible for just one of their incomes to pay the mortgage. This was in case anyone got sick or lost work for a period of time. "We could have gotten a more expensive house, but we didn't want to have that stress," Castellanos says. The couple worked with a loan officer and found that because of their good credit, among other factors, they were able to qualify for a loan that required as little as 3 percent down. They were thrilled since it was much less than they were expecting.
Finding the One and Settling In
A few months later the couple found themselves closing on their dream home, a three-bedroom near their families and jobs in Lodi. It was the second house they viewed, and it was fully remodeled with new everything—appliances, roof, A/C, windows, carpet and paint. "All the updates won us over," Castellanos says. The best part: Gomez and Castellanos still have money in savings. After the sale they had enough leftover to fully furnish their new place but prioritized buying the most important items first so they wouldn't drain their savings in one fell swoop. "We didn't get a TV until the second month, because first we needed a couch to sit down on," Castellanos says. "Then [we bought] the dining table, then the washer and dryer. Little by little." The house has a large yard and two dining areas; the family uses the extra one as a playroom. Besides the master bedroom and their daughter's room, there's a third bedroom, which Gomez has turned into a dressing area. "It has all her stuff," says Castellanos, laughing. "She took it over. We never thought we'd have a house this big to start, and we are loving it."
Home-Buying Tips From Gomez and Castellanos
• Practice paying a mortgage. Castellanos and Gomez estimated a typical monthly mortgage payment for their area and put that amount into their savings as if they were paying a bill. That type of planning and consistency goes a long way toward building a down payment—plus, it helps you see where you may need to make spending cuts to live comfortably once you own a home.
• Keep the end goal in mind. Imagining your future home can make the sacrifices easier to bear. "My friends ask, 'How did you do this?' and I say, 'Remember when you were eating at restaurants, going out all the time? We were home!'" Castellanos says. "It was hard, but now we have our own house."
• Stay on track. If you're short on savings one month, make it up the next. "There were certain months when I went out and spent more than I was supposed to," admits Castellanos. "Whenever that happened, the next month I'd try to recover and put it back."
Photo: Crystal Kimberling
Eight months after moving from Las Vegas to rural Idaho to be closer to family, Krista Karn and her husband separated. "I had a good job and a lot of support from family and friends, but single parenthood was challenging, both emotionally and financially," says Karn, a public relations professional whose daughter, Aubrey, was 4 at the time. The three of them had been renting an old farmhouse owned by Karn's cousin. "We loved it," she says. "It had a big tree with a tire swing and horses in the pasture next to the front yard." But Karn was determined that her daughter would have a permanent home to grow up and make memories in.
Making Sacrifices to Save
Compared to what she paid in Las Vegas, the rent was much less per month—which meant that even on one income, Karn was able to save. "I tried to set aside [the extra money that] I would have been paying in 'city' rent," she says. She stashed that monthly amount away along with her refund come tax time. Karn made other sacrifices in her lifestyle too. "We lived in a 100-year-old house without a lot of amenities," she notes, adding that she was "stingy" about eating out and going to the movies. She also carefully calculated her house budget. "I knew I'd be paying for a home on a single income, and I didn't want to struggle to make payments," she says. Her maximum price left a little wiggle room to ensure she'd be able to pay the mortgage without giving up vacations or ballet classes for Aubrey.
Starting the Home Search
As she began to research financing options, Karn discovered different loan types that could help her save money, including one that would allow her to put as little as 3 percent down on a house. Because she was house-hunting in a competitive market, she chose to get prequalified for a mortgage. "I wanted to make the process easier, so I could put in an offer as soon as I found a house," she says. "Real estate is slim pickings in a town of 2,000 people!" Karn began looking at homes with specific must-haves in mind, including a garage so she wouldn't have to de-ice her car in the winter, a fenced backyard and a dishwasher. "I probably looked at five houses in all," she says, noting that the process took just a couple of months. Karn fell in love with the second one she saw, though it didn't have a fenced yard. She ended up paying the full asking price, but negotiated a fence allowance (meaning the owner gave her the money to put one up).
Moving in and Making It Their Own
After a little more than a year of saving, Karn and Aubrey had a 1950s-era four-bedroom house with a brick fireplace to call their own. "I love all the details of our home," Karn says. "Pocket doors, a built-in linen closet. There's even a hidden door in the closet of one downstairs bedroom that opens into the closet of the adjacent bedroom—my daughter feels like it's a special secret only she knows about." In fact, Karn practically gushes when she talks about the home, where her new husband, Dan, has since joined them. "We have a swing set. We painted our mailbox blue. We put those ridiculous holiday inflatables in our front yard," she says. "We have a garden where we've grown everything from tomatoes to giant sunflowers. We have a tire swing hanging from the tree in our front yard. We rake leaves and jump in them. All the childhood memories I had, I've been able to share with my own child because I had a goal to buy a home, and I did it."
Home-Buying Tips From Karn
• Investigate all angles. If you want to own a home, research every option you can to make it happen. Down payment assistance, different loan types—those programs exist to put people into homes. They are for you.
• Don't wait for a "perfect" situation. "There is no rule that says you need a big family or the ideal job to own a house," Karn says. When the time feels right, go for it.
• Develop consistent habits. Skipping the occasional night out to save some dough is great. But to really boost your savings, you have to decide what to cut out and stick with it. One small thing Karn did? Making her morning joe at home. "I went without buying coffee for an entire year," she says.
The Bump and Fannie Mae present Home Within Reach a sponsored series that gives new families the lowdown on home-buying. Ready to become a homeowner? Find out about a low down payment option that could make it more affordable than you'd think.
Photo: SolStock/iStock